A Summertime Adventure: 13 Bakeries and Cafés to Delight Your Senses in Cambridge, Massachusetts
Welcome to Cambridge, Massachusetts, where the summer air is filled with the irresistible aroma of freshly baked goods. Join us on a delightful culinary journey as we explore 13 bakeries and cafés that are guaranteed to satisfy your sweet tooth and captivate your senses. From artisanal bread to delicate pastries, get ready to indulge in the flavors that define this vibrant city.


For almost three decades, locals and visitors alike have been drawn to the gastronomic haven that is Iggy's Bakery, located in the heart of West Cambridge. Enter and be enveloped in the sweet scent of freshly baked pastries and the kind embrace of a welcoming community. You won't simply have your sweet tooth satisfied at Iggy's Bakery; you'll leave wanting more.
Iggy's Bakery is a shining example of culinary mastery in the heart of Cambridge. Located on a picturesque street, the bakery's attractive front entices passing shoppers to enter and sample its delectable wares. Wooden decorations and comfortable seating spaces provide a homey vibe that makes guests want to linger and take in the experience.
Iggy's Bakery is well-known for its artisanal bread, which is cooked with care using organic ingredients and traditional methods. Every loaf of bread, from the crustiest baguettes to the heartiest whole grain breads, is a testament to the hard work and skill of its baker. When you sink your teeth into a newly baked slice, you'll feel the balance between the crust's crunch and the bread's airy texture.
But the extravagance isn't limited to only bread. The delicious baked goods from Iggy's Bakery will make your taste buds do a happy dance. Each and every one of these sweet treats, from buttery pastries to rich cakes, is a piece of beauty. Try one of their buttery croissants, light fruit tarts, or rich chocolate eclairs and experience a moment of happiness with every bite.
Iggy's Bakery has received nothing but rave reviews from its patrons, both locals and those passing through. A diner gushed, "Iggy's bread is simply heavenly; it has the ideal combination of chewiness and flavor." That's why I always want to come back for more. The sweets at Iggy's Bakery are like delicious sculptures," said another delighted customer. The complexity of the tastes and the care put into each component are incredible.
The press has taken notice of Iggy's Bakery and praised its remarkable products. Boston Magazine and other prestigious magazines have profiled the bakery and praised its dedication to quality and flavor. Iggy's Bakery is regarded as one of Cambridge's finest eateries because it consistently provides customers with high-quality baked goods and a pleasant dining experience.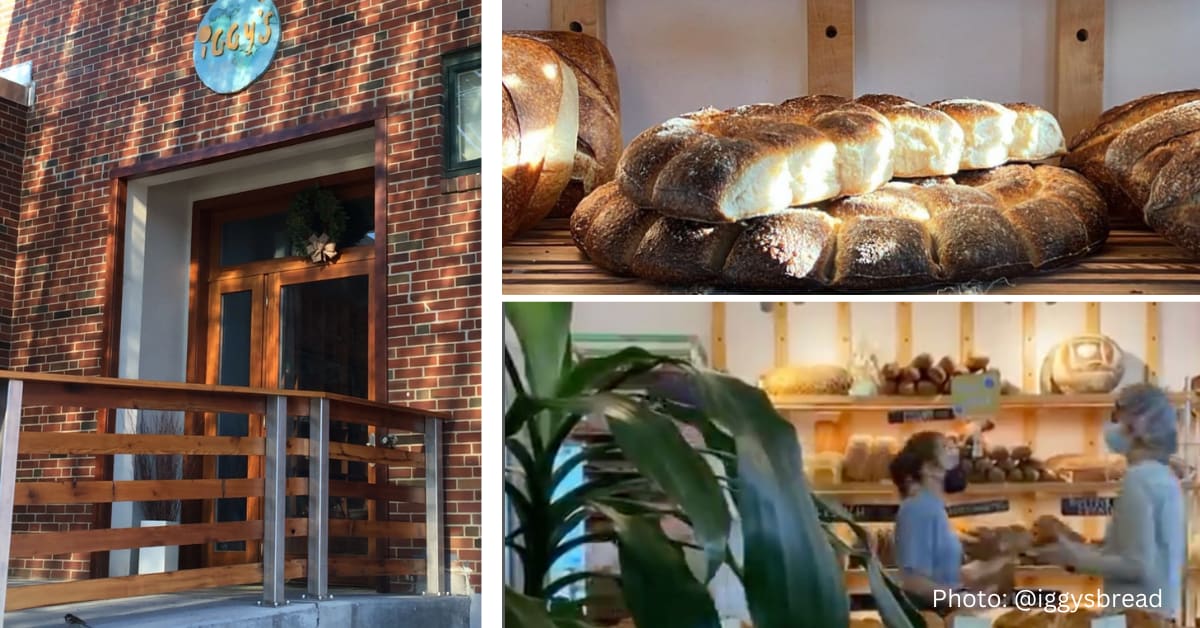 The charming La Saison Bakery may be found right in the middle of west and north Cambridge on a quiet, tree-lined lane. You're in for a treat when you enter this charming bakery, where originality and deliciousness meet in perfect harmony. La Saison Bakery is more than simply a location to satisfy your sweet tooth; it's a haven for pastry lovers who are in search of something special.
La Saison Bakery, emanates an endearing charm that beckons customers the instant they step foot inside. The bakery's interior is a charming combination of rustic and contemporary design features.
La Saison Bakery has earned a reputation for its dedication to culinary beauty. The bakery clearly takes pride in its work, as seen by the care with which each item is made. Every bite is an extraordinary culinary adventure, from the multicolored macarons to the cakes decorated with edible flowers.
La Saison Bakery's amazing pastries have brought in a steady stream of fans who have left nothing but rave praises in their wake. An delighted customer said, "La Saison Bakery is a treasure trove of delicious beauty. Their pastries are works of art, and they taste much better than they appear! Another delighted client gushed, "I am in awe of the originality and tastes they give"
Praise from both consumers and the local press have helped La Saison Bakery rise to the ranks of Cambridge's best bakeries. The bakery's dedication to innovation and great quality have been featured in local and national publications. It has been featured in prominent culinary publications, further establishing its status as a must-see for pastry lovers.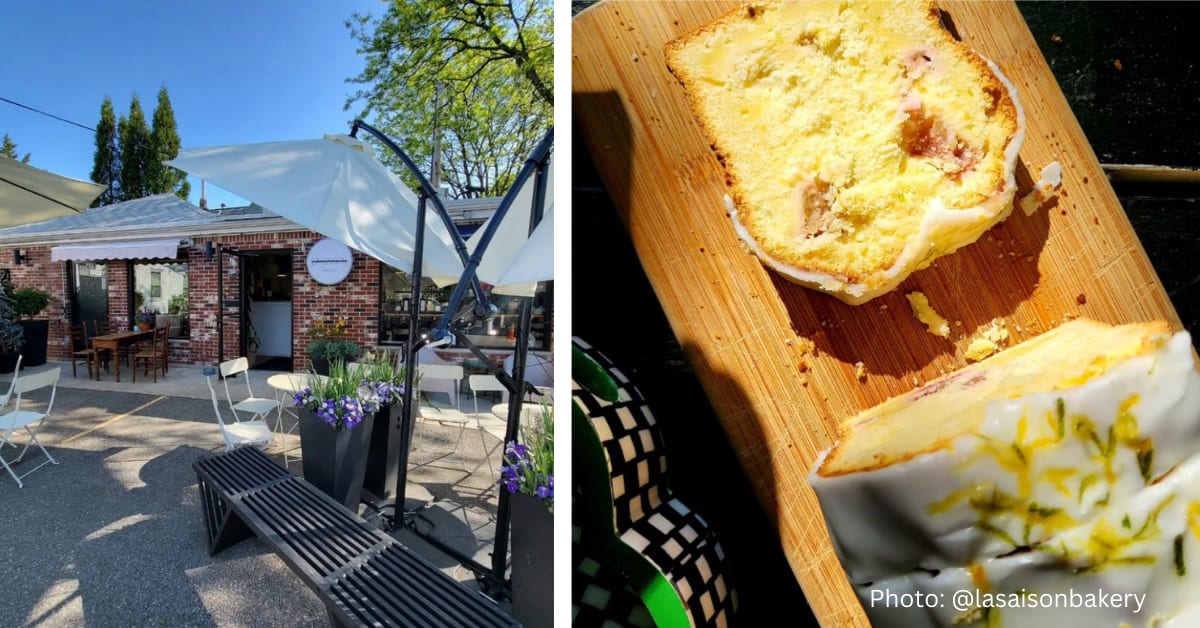 Hi-Rise Bakery is a shining example of culinary mastery. You're about to enter a beautiful institution where your sense of taste will be taken to new heights. Hi-Rise Bakery is more than simply a bakery; it's a gathering place where residents and visitors alike can share in delicious treats, friendly service, and an unforgettable time.
The Bakery is a refuge for foodies looking for a quiet hideaway, nestled in a trendy section of Cambridge, right in the famous Neighborhood Nine. You can smell the fresh bread baking as soon as you walk in, and the staff is always happy to see you. The room's wooden fixtures and furnishings provide a warm and homey ambiance perfect for unwinding and taking in the moment.
The handmade bread at Rise Bakery is made with care and with the highest quality ingredients. Every loaf, from crusty baguettes to light ciabatta, displays their dedication to excellence. The harmony of the many textures and flavors in each bite is like entering a state of utter joy.
However, the bakery's offerings go well beyond bread. The variety of pastries they provide is superb. Feast on pastries that will leave you wanting more, such as buttery scones, tender croissants, and rich cakes. Each item is a work of beauty, with painstaking detail and an explosion of flavor that leaves your taste buds dancing.
Reviews from regulars attest that the friendly service and delicious baked goodies at Hi-Rise Bakery draw customers from all around. "Hi-Rise Bakery is a hidden gem that never disappoints!" said one satisfied patron. The pastries and breads there are works of beauty in their own right. One more happy customer had this to say about the helpful employees at Hi-Rise Bakery: "The service at Hi-Rise Bakery is amazing. Every time I come here, I get a warm, fuzzy feeling".
In terms of press and public recognition, Hi-Rise Bakery has established itself as one of Cambridge's finest bakeries. The bakery has been praised by prestigious media outlets and food reviewers for their unwavering dedication to quality. Hi-Rise Bakery has become a mecca for bread and pastry lovers because of its inclusion in Boston Magazine and its glowing accolades in local media.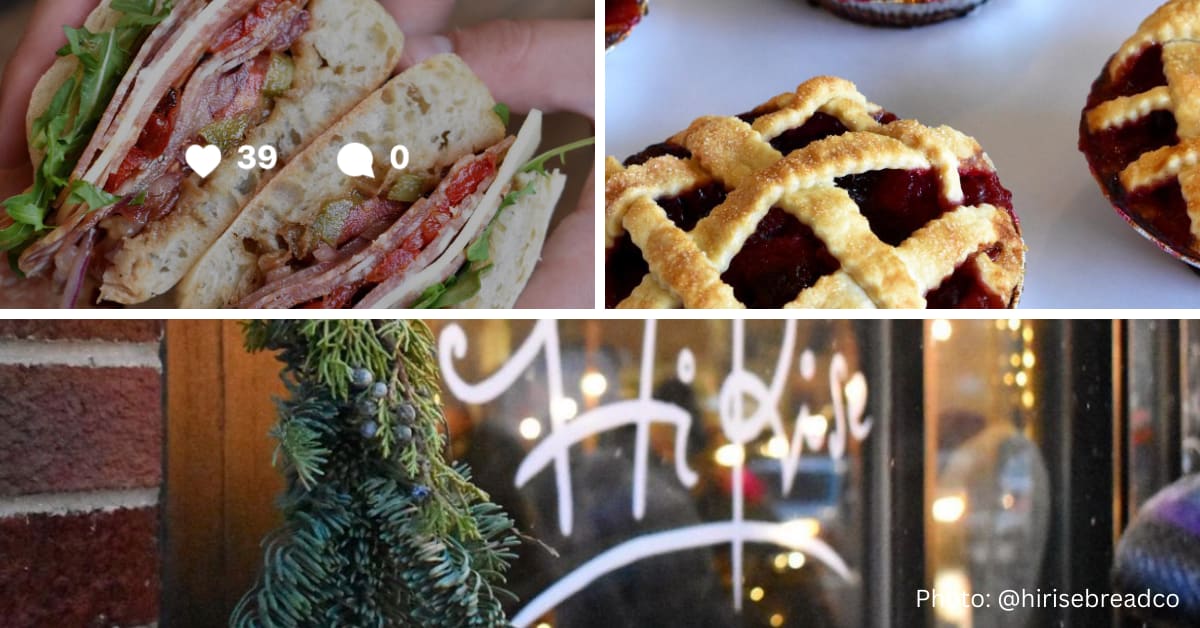 Tucked away in the vibrant city of Cambridge near Porter Square, Little Bake is a whimsical haven for dessert and boba tea lovers seeking a taste of pure magic. Prepare to be transported to a world of sweetness and delight as you step into this enchanting bakery. Little Bake isn't just a place to satisfy your cravings; it's a place where dreams are turned into delectable reality.
Customers are in awe of Little Bake's whimsical creations, and their opinions reflect the bakery's dedication to excellence. One customer raved, "Little Bake is a true hidden treasure. The attention to detail in their desserts is incredible, and the flavors are out of this world!" Another satisfied visitor exclaimed, "I've never seen such beautifully crafted treats. Little Bake is pure magic!"
Though tucked away in the vicinity of Porter Square, Little Bake has garnered attention from the press and earned its place among the top bakeries in the area. The bakery's Instagram-worthy creations have caught the eye of food bloggers and influencers, leading to features in local publications. The innovative approach and artistic presentation have solidified Little Bake's reputation as a destination for those seeking exceptional sweets.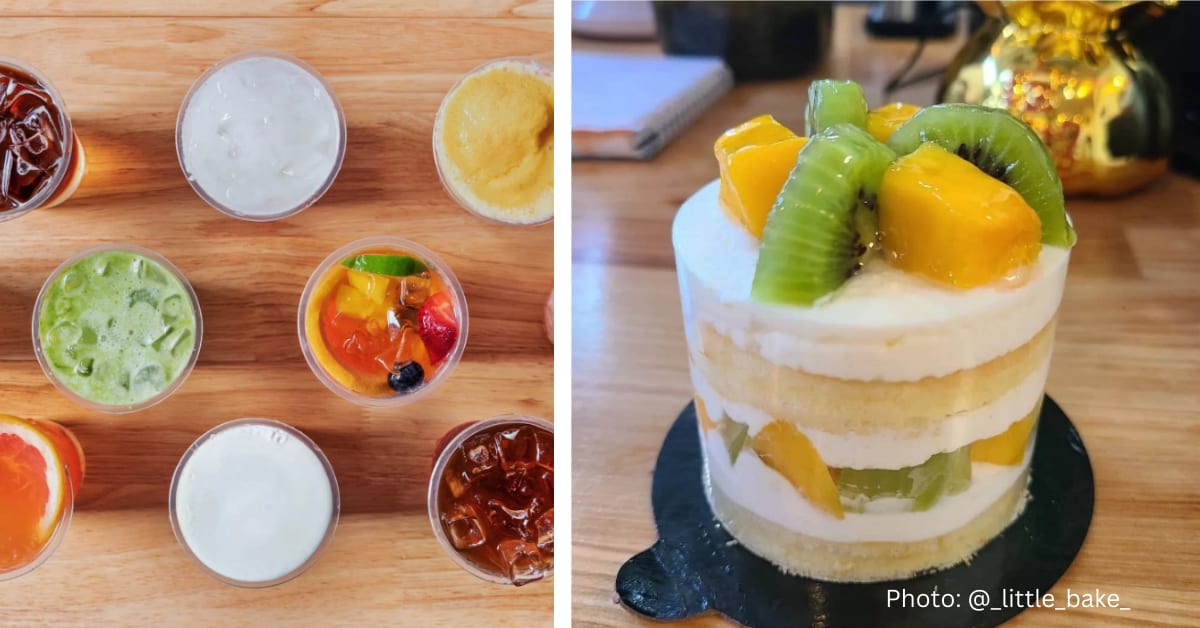 Right in Mid-Cambridge and only steps away from the Harvard Museums and Harvard Square, you can Indulge your senses and embark on a culinary journey to the streets of Paris at Macaron French Pastries. Nestled in the vibrancy of Harvard Square, this charming dessert home brings the exquisite artistry and delectable flavors of French pastries right to your doorstep. Prepare to be whisked away to a world of colorful elegance, where every bite is a moment of pure bliss.
This shop is renowned for its mastery of the delicate and beloved macaron. Each macaron is a small, colorful masterpiece—crisp on the outside, with a soft and flavorful filling that will transport you to the streets of Paris with every bite. From classic flavors like pistachio and raspberry to inventive combinations that surprise and delight, the macarons at Macaron French Pastries are truly exceptional.
But the delights don't stop at macarons. Each creation is meticulously crafted by skilled pastry chefs using traditional techniques and high-quality ingredients, ensuring that every bite is a moment of pure indulgence.
Customers rave about the exquisite offerings at Macaron French Pastries, praising both the taste and presentation of the pastries. One customer exclaimed, "Macaron French Pastries is a slice of Paris in Cambridge! The macarons are divine, and each bite is pure perfection." Another satisfied visitor remarked, "The attention to detail in their pastries is incredible. You can truly taste the craftsmanship and passion that goes into each creation."
Macaron French Pastries has garnered attention from both local press and the wider culinary community. Esteemed publications have highlighted the bakery's commitment to authenticity and quality. From glowing reviews in Boston Magazine to mentions in local food blogs, Macaron French Pastries has earned its place among the top bakeries in Cambridge. Bon appétit!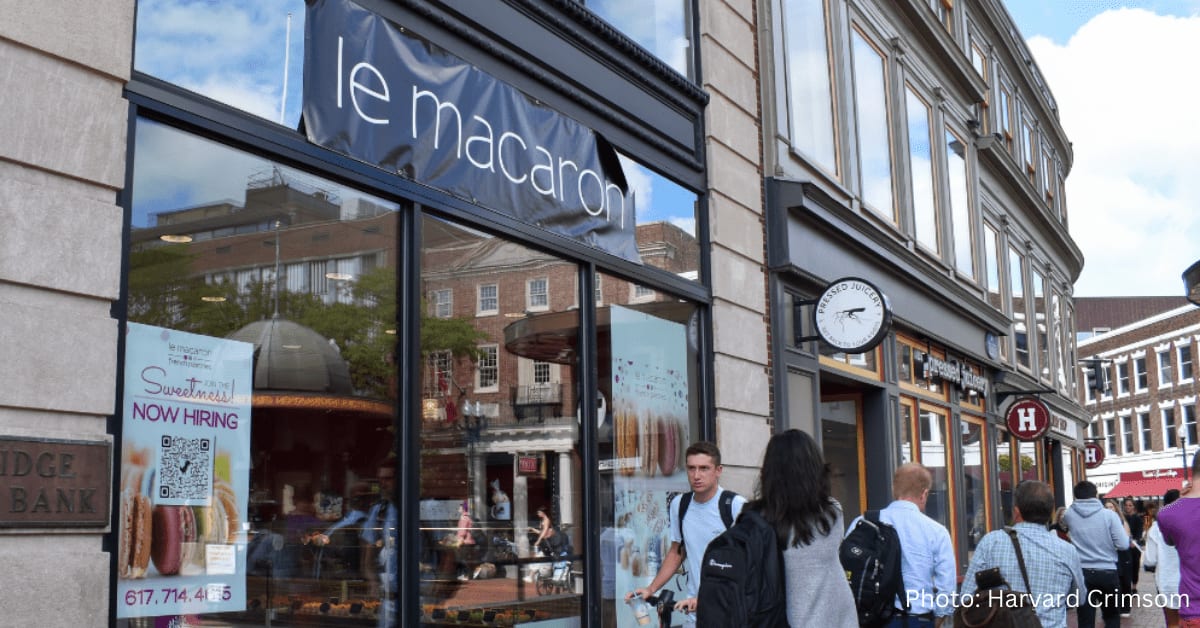 Step into a world of chocolate wonderland at L.A. Burdick in Harvard Square. This artisanal chocolate shop and café is a haven for chocolate connoisseurs seeking a taste of pure indulgence. Prepare to be enchanted by the rich aroma of cocoa, the exquisite craftsmanship, and the heavenly flavors that await you at L.A. Burdick.
As you enter, you're greeted by the warm glow of chocolate displays and the tantalizing scent of freshly made treats. The café boasts a cozy and intimate atmosphere, perfect for savoring the delights that lie within.
L.A. Burdick is renowned for its artisanal chocolates, each a miniature masterpiece carefully crafted by skilled chocolatiers. From the velvety smoothness of their signature chocolate mice to the intricate designs adorning their truffles, every piece tells a story of passion and dedication to the art of chocolate-making. Indulge in a variety of flavors, from rich dark chocolate to creamy milk chocolate, and let your taste buds embark on a delightful journey.
But L.A. Burdick isn't just about chocolates. The café also offers a range of delectable treats to complement their chocolate creations. Delight in buttery pastries, sumptuous cakes, and decadent hot chocolate that will warm your soul on even the coldest of days. Each bite is a moment of pure bliss, leaving you craving for more.
Customers are enamored with this place, praising the quality and craftsmanship of their products. One satisfied customer exclaimed, "L.A. Burdick takes chocolate to a whole new level! Their truffles are heavenly, and the attention to detail is remarkable." Another chocolate lover remarked, "The hot chocolate at L.A. Burdick is like a hug in a mug. It's rich, creamy, and the perfect indulgence."
L.A. Burdick has earned its place as a beloved chocolate destination, receiving praise and recognition from both customers and critics alike. With mentions in prestigious publications such as Boston Magazine and The Boston Globe, the chocolatier has solidified its reputation as one of the best in Cambridge. L.A. Burdick consistently ranks among the top chocolatiers in the area, thanks to its dedication to quality and commitment to delivering an exceptional chocolate experience.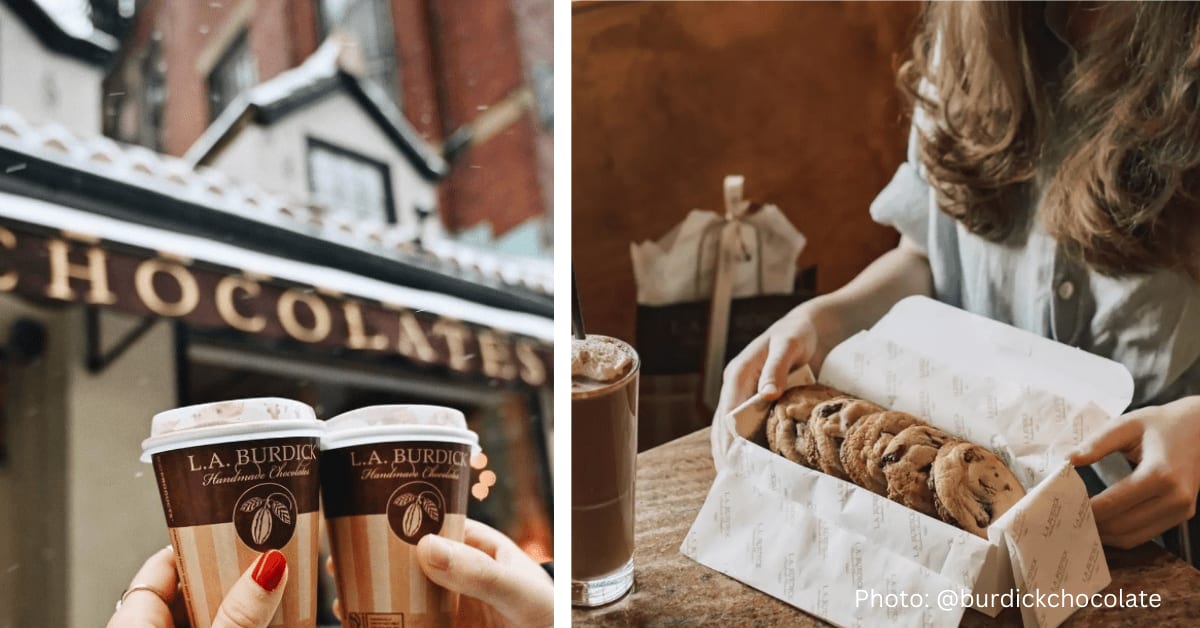 Welcome to Flour Bakery, the ultimate destination for all things delicious with multiple locations in East-Cambridge, Cambridgeport and West Cambridge. Prepare to embark on a flavor-filled adventure that will leave you craving for more. With its mouth watering treats, vibrant ambiance, and cult following, Flour Bakery is a must-visit for food enthusiasts seeking a taste of pure pastry perfection.
Flour Bakery is a bustling hub of culinary creativity and community. Its inviting glass storefronts beckons you with an irresistible aroma of freshly baked goodies. Step inside, and you'll be greeted by a warm and lively atmosphere, where the clatter of utensils and the laughter of satisfied customers fill the air. The bustling energy is contagious, making it the perfect spot to grab a quick bite or linger over a leisurely cup of coffee.
Flour Bakery is renowned for its extensive selection of pastries, bread, and sandwiches, each crafted with love and attention to detail. Indulge in a buttery croissant that shatters upon first bite, or sink your teeth into a flaky and flavorful tart. From muffins bursting with fresh fruit to decadent cakes and pies, every treat at Flour Bakery is a testament to the skill and passion of its talented bakers.
But Flour Bakery isn't just about pastries. Their sandwiches are LENGENDARY, with creative flavor combinations that will delight your taste buds. Sink your teeth into a mouthwatering grilled cheese or savor a hearty roast beef sandwich. With options for vegetarians and meat lovers alike, there's something to satisfy every craving.
Customers can't get enough of Flour Bakery's delectable creations, and their rave reviews speak volumes. One satisfied customer exclaimed, "Flour Bakery is my happy place! The pastries are out of this world, and the sandwiches are to die for." Another loyal patron remarked, "The moment I walk through the door, I'm greeted with the comforting scent of fresh bread and the friendliest smiles. Flour Bakery is a true gem!"
Flour Bakery has gained well-deserved recognition from both local press and national publications. With features in Boston Magazine and The New York Times, Flour Bakery has solidified its status as a beloved institution in Cambridge. Its commitment to quality and innovation has earned it accolades and a loyal following. Flour Bakery consistently ranks among the top bakeries in the area, thanks to its dedication to serving mouthwatering treats with a smile.
Get ready to embark on a delightful culinary journey through the charming streets of Cambridge, Massachusetts. This summer, immerse yourself in the flavors and aromas that define this vibrant city. From decadent chocolates to mouthwatering pastries, we will continue our exploration of the best 13 bakeries and cafés that are sure to delight your senses. So, let's keep moving!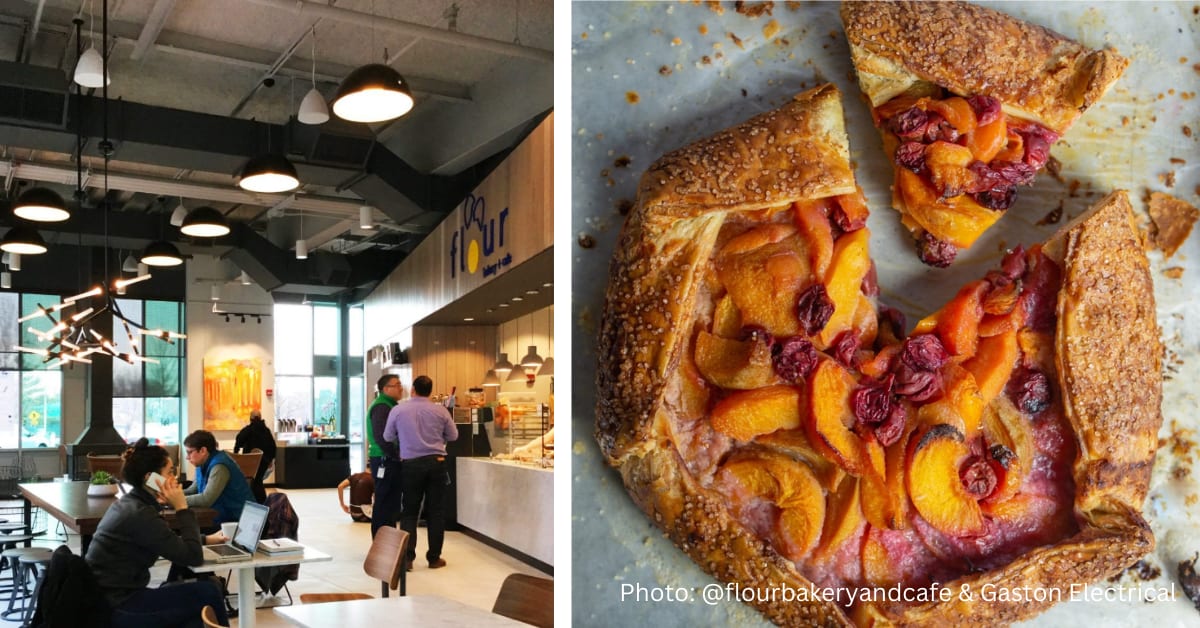 If you find yourself in between Central and Harvard Square,, stop by Zinneken's Belgian Waffles for a taste of the charming streets of Brussels. The original flavors of Belgium may now be found in Massachusetts, thanks to this warm and welcoming waffle shop. Zinneken's Belgian Waffles is the place to go if you love waffles and want to indulge in a little of pure decadence, thanks to their classic recipes, friendly service, and touch of whimsy.
Zinneken's Belgian Waffles is conveniently in Massachusetts Avenue, and its picturesque storefront and the scent of freshly made waffles are sure to entice you inside. Upon entering, you will feel the welcoming warmth and coziness typical of a European café. You may almost feel yourself strolling the charming streets of Brussels thanks to the decor's subtle Belgian flair. You may enjoy your waffle at one of the indoor booths or at one of the outside tables, either way you're in for a treat.
Famous for its traditional Liege-style waffles, Zinneken's Belgian Waffles' recipe has been passed down through the centuries. Special pearl sugar caramelizes while baking, giving these waffles a crunchy outside and a tender, airy inside. The waffle's subtle sweetness is enhanced with a symphony of toppings, making each mouthful a symphonic experience.
Indulge in tried-and-true flavor pairings like the "Brussels" waffle with powdered sugar, or go for the "Le Funambule" with a heavy hand in the Belgian chocolate drizzle and whipped cream. The "Zinneken's Benedict" waffle, which features poached eggs and hollandaise sauce, is a savory treat for people with a savory tooth. Each waffle is a work of beauty in its own right, and there's something for every taste bud.
Customers have nothing but praise for Zinneken's Belgian Waffles and the unique waffle experience they provide. "Zinneken's waffles are a little piece of heaven!" said one satisfied patron. Waffles are heaven when they're warm, fluffy, and topped with sugary goodness. Another happy customer said, "The waffles at Zinneken's are the most genuine I've ever had. With each taste, you'll feel like you've been to Belgium.
Zinneken's Belgian Waffles has been praised by both regional newspapers and national tomes. They've earned a solid reputation among Cambridge locals and visitors thanks to coverage in publications like Boston Magazine and The Boston Globe. Zinneken's is one of the best waffle shops in the neighborhood because they care about providing authentic Belgian waffles and never skimp on quality.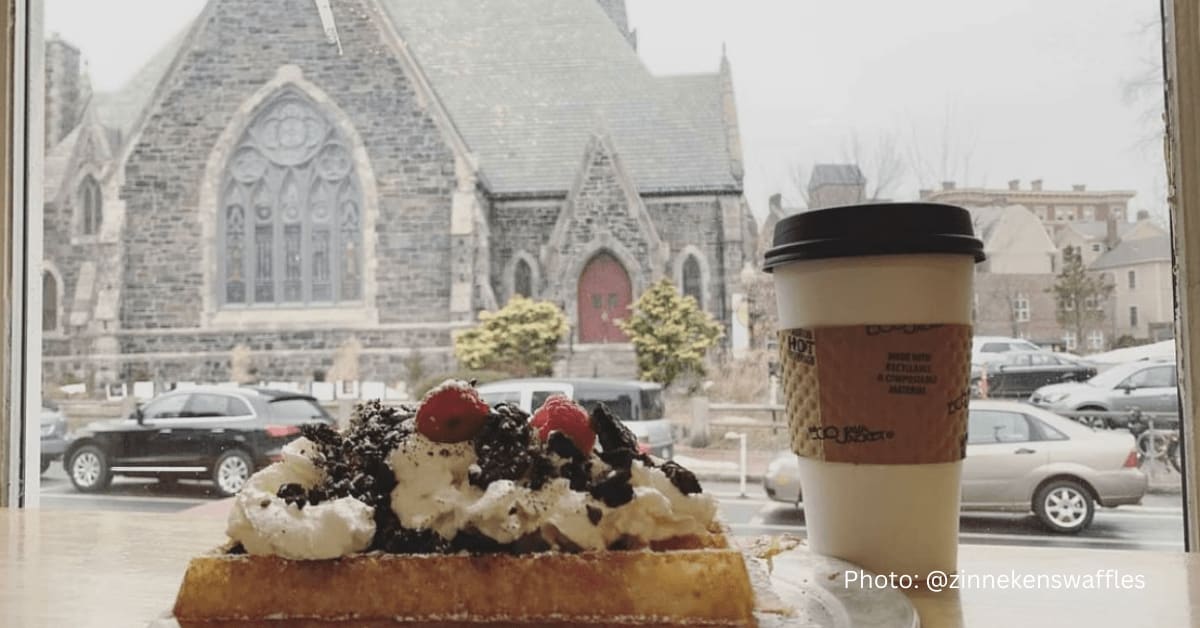 Bonjour! You've found Paris Baguette, a wonderful Cambridge bakery that fuses the sophistication of French pastries with the vivacious tastes of Korean cooking. Paris Baguette is a one-of-a-kind experience that will excite your sense of exploration and delight your taste buds thanks to its eclectic blend of cultures.
Right in the heart of Central square, you'll find Paris Baguette. They take great pride in its extensive selection of both traditional Parisian pastries and Korean-inspired treats. Try some of their exquisite macarons, buttery croissants, and flaky pain au chocolat made with a Parisian flair.
Paris Baguette combines the best of both worlds in their delicious red bean pastries and matcha-infused delights.. Their Korean-inspired pastries are a delicious departure from the standard fare at French bakeries. The flavors in each mouthful complement one another well and leave you wanting more.
Customers love Paris Baguette because of the unique way the chefs combine tastes. "Paris Baguette is a culinary adventure!" said one client. I really enjoy how they put a Korean spin on classic French desserts. You can't get this unique flavor combination anyplace else. The Korean influence gives the traditional pastries a refreshing new flavor, as one satisfied patron put it. Every time I go there, I find something new and exciting.
Paris Baguette has become well-known across Cambridge as the best bakery in the area. Boston Magazine and The Boston Globe have highlighted their unique fusion of French and Korean cooking techniques. As one of the best bakeries in the neighborhood, Paris Baguette has made a name for itself through its commitment to innovation and excellence.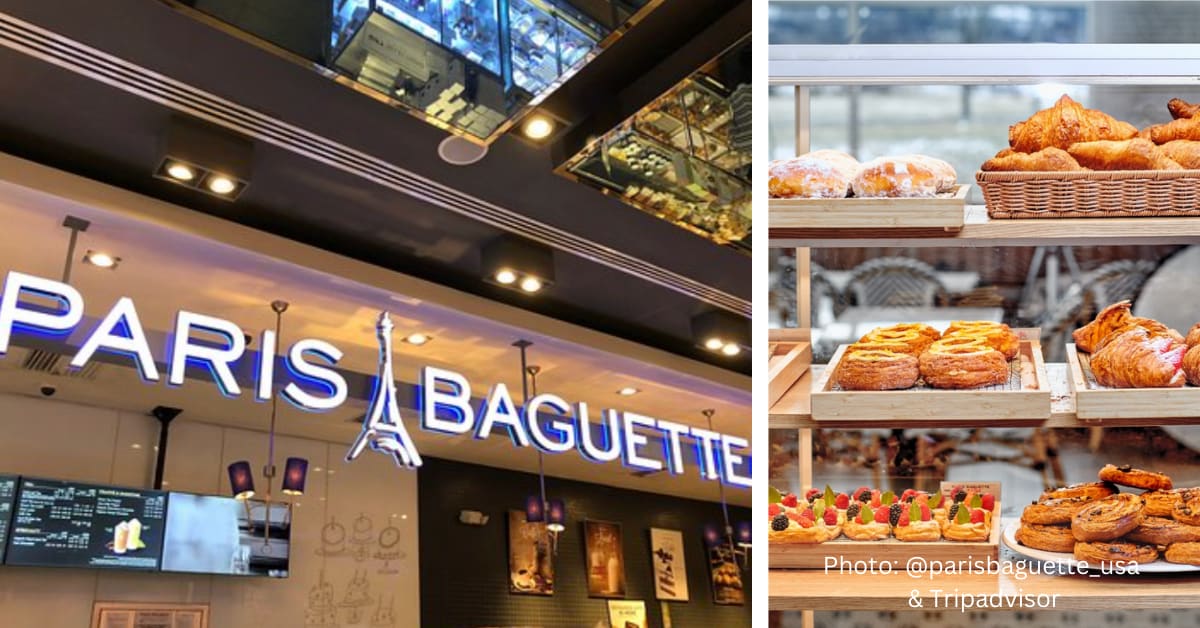 With its enchanting location in a quiet street in between Central and Kendall Squares, a delightful ambience, and delectable treats, Praline is a haven for those with a sweet tooth and a desire for culinary french indulgence.
Praline invites you with its tasteful facade and the heavenly aroma of freshly baked goodies wafting through the air. Step inside, and you'll find yourself in a wonderland of confectionery delights.
Praline boasts an impressive array of mouthwatering treats that cater to every sweet craving. Indulge in their fluffy macarons that melt in your mouth, or savor a slice of their signature cake or quiche beautifully adorned with intricate designs and irresistible flavors. Each bite is a burst of sweetness that will transport you to a world of pure delight.
Customers can't help but rave about Praline and the heavenly treats they offer, including tasty coffee! One satisfied customer exclaimed, "Praline is a dessert lover's paradise! The cakes are moist and flavorful, and the pastries are like little bites of happiness." Another delighted patron noted, "The attention to detail in their desserts is incredible. The flavors are unique, and the presentation is truly a work of art."
Praline consistently receives rave reviews for their imaginative creations and dedication to quality. Their commitment to crafting delectable treats has earned them high rankings among the best bakeries in the area.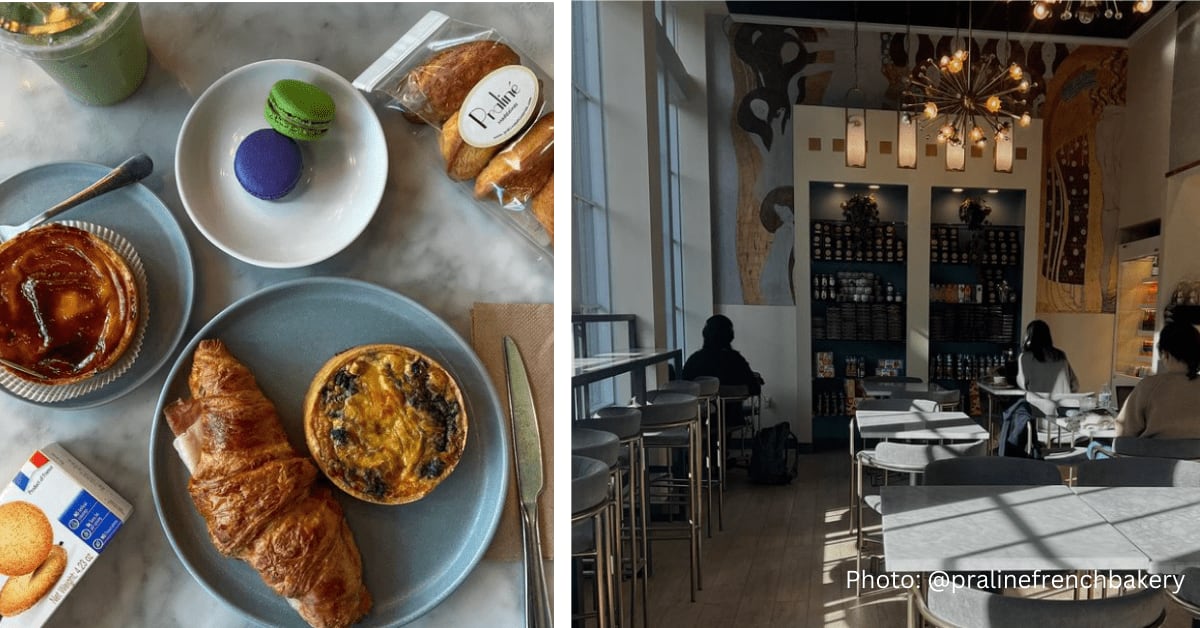 Welcome to Tatte, a culinary oasis in the heart of Cambridge that promises to enchant your taste buds with its Mediterranean-inspired fare and exquisite pastries. Founded by the talented Tzurit Or, Tatte is not just a bakery but a reflection of her passion for food, art, and culture. Let's delve into the story behind Tatte, its delightful locations, and the buzz it has generated among customers and the press.
Tzurit Or, the visionary owner and mastermind behind Tatte, is an Israeli-born baker who brings her culinary expertise and love for Mediterranean flavors to every creation. With a background in art and design, Tzurit infuses her culinary creations with a touch of creativity, elevating them from mere treats to edible works of art. Her innovative approach and commitment to quality have earned her a loyal following of food enthusiasts.
Tatte's story began with Tzurit's dream to create a gathering place where people could enjoy exceptional food and delightful pastries in a warm and inviting atmosphere. Drawing inspiration from her childhood memories in Israel, Tzurit wanted to share the vibrant flavors and rich culinary traditions of the Mediterranean with the world. With this vision in mind, Tatte was born, and it quickly became a beloved destination for food lovers in Cambridge.
Tatte boasts several charming locations throughout Cambridge from East-Cambridge to West Cambridge and other Boston locations, each with its own unique yet signature ambience. From the cozy and intimate cafe nestled in Harvard Square to the bustling bakery on Third Street, every Tatte location invites you to step into a world of culinary delights. The warm lighting, rustic wooden accents, and the aroma of freshly brewed coffee create an atmosphere that is both comforting and invigorating. Whether you choose to savor your treats indoors or bask in the sunshine on the outdoor patio, Tatte offers a haven where you can relax, unwind, and indulge in the sensory pleasures of food.
Customers are consistently amazed by the exceptional quality and taste of Tatte's offerings. One satisfied customer raves, "Tatte is a hidden gem! The pastries are like pieces of edible art, and the flavors transport me to the Mediterranean with every bite." Another delighted patron notes, "The attention to detail in every dish is remarkable. Tatte's menu is a celebration of flavors, and their commitment to using fresh, locally sourced ingredients is evident in every bite."
Tatte has garnered widespread recognition and praise from both local and national press. With features in prestigious publications such as The Boston Globe and Eater, Tatte has solidified its place as a culinary destination in Cambridge. The impeccable quality of their pastries, the artistry in their presentation, and the inviting ambience of their cafes have earned them high rankings among the best bakeries and cafes in the area.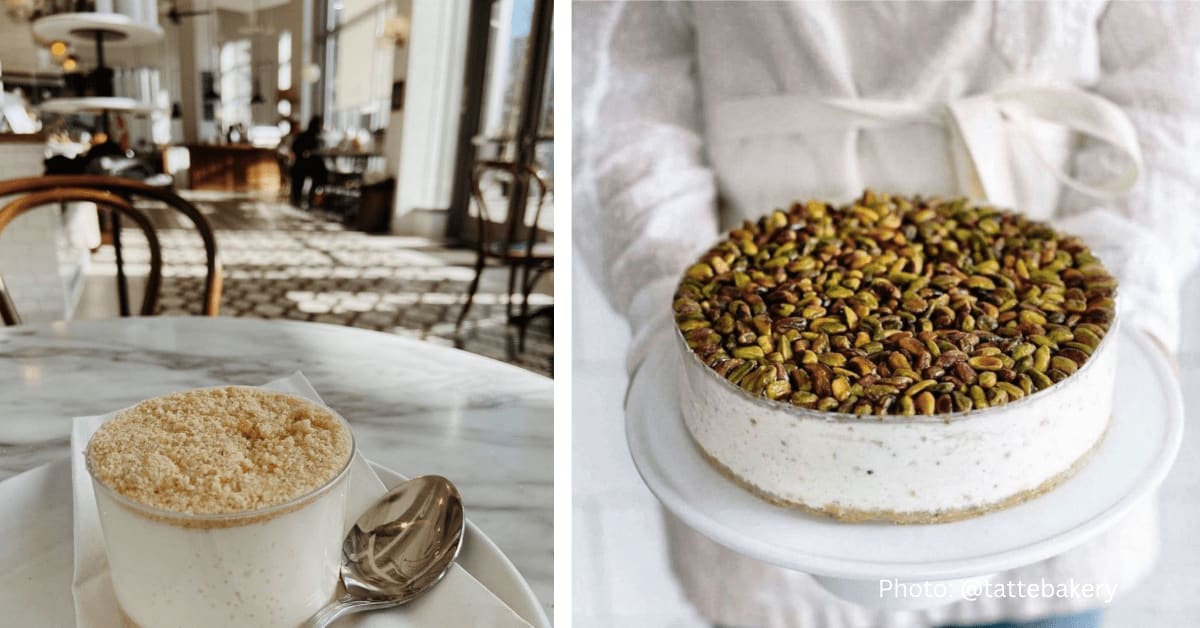 Mariposa Bakery, located in Central Square, is a beloved establishment that has been delighting the community for over 18 years. The bakery's success is attributed to the incredible people who contribute their unique talents and passion, including the dedicated customers, staff, and neighbors in Central Square.
The bakery prides itself on its diverse and talented team, comprised of individuals from Greater Boston and beyond. Their varied backgrounds as bakers, cooks, illustrators, photographers, chefs, actors, musicians, and more, have helped shape Mariposa into what it is today.
Founded by Suzanne Mermelstein, Mariposa Bakery is the realization of her lifelong dream. Suzanne's love for baking was nurtured by her upbringing in a close-knit, multigenerational family with a deep appreciation for food and communal meals. Her journey in the culinary world began in 1991 when she started working at Panini Bakery in Cambridge. Building on her experience, she later joined Rialto Restaurant, where she honed her skills as a lead bread baker and pastry assistant.
In 2004, Suzanne's dream came to fruition as Mariposa Bakery opened its doors in the heart of Central Square. Her vision was further complemented by the addition of Petal Joseph, a former colleague from Rialto Restaurant, who now oversees operations and staffing at Mariposa. Together, Suzanne and Petal bring their wealth of experience to ensure the bakery runs smoothly and continues to thrive.
Suzanne, who resides in Prospect Hill, Somerville, shares her life with her partner Paul O'Connell and their Portuguese water dog named Willa. Paul, a renowned chef and former owner of the award-winning Chez Henri in Cambridge, has been an active participant in Mariposa Bakery since its inception. His expertise and creativity are invaluable as he collaborates on menu development and manages Mariposa's Farmer's Market operations, as well as occasional pop-up events.
Mariposa Bakery, under the guidance of Suzanne and Petal, remains a cherished destination in Cambridge, offering an array of delicious baked goods and a warm and inviting atmosphere for the community to enjoy.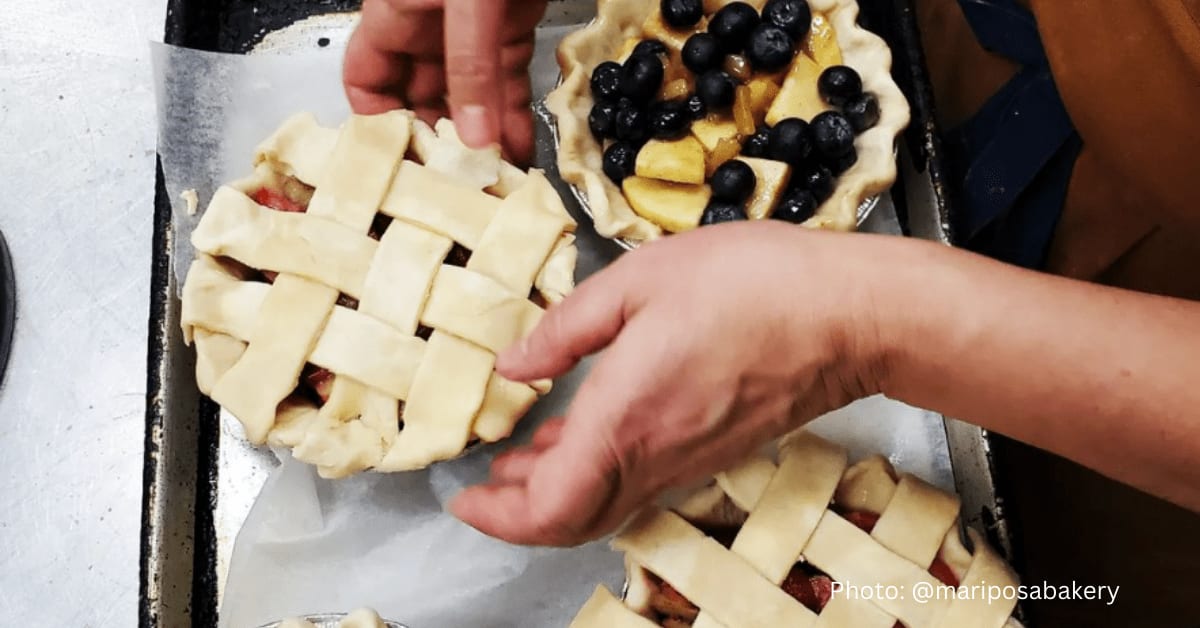 Black Sheep Bagel Cafe takes a creative and innovative approach to their bagel offerings. While they honor the classic flavors like plain, sesame, and everything, they also push boundaries with their inventive and mouthwatering varieties. Their unexpected flavor combinations are a testament to the cafe's commitment to culinary excellence and their dedication to delivering an unforgettable bagel experience.
Customers rave about the quality and taste of the bagels at Black Sheep Bagel Cafe. They appreciate the attention to detail and the willingness of the owners to think outside the box. The cafe has garnered a strong and loyal following, with patrons eagerly recommending it to their friends and family. Many have praised the friendly and attentive staff who contribute to the welcoming atmosphere and ensure a positive dining experience.
Black Sheep Bagel Cafe has received positive press and accolades from various sources, further solidifying its reputation as a top-notch bagel destination. Local publications such as Cambridge Day have praised the cafe for its unique flavors and commitment to quality. The cafe has also garnered a high ranking on review platforms like Yelp and Google, with customers consistently rating it among the best bagel spots in Cambridge.
Nestled in the heart of Harvard Square, Black Sheep Bagel Cafe is perfectly situated to serve both the local community and visitors to the area. The charming cafe features cozy seating areas where customers can enjoy their bagels and engage in conversations with friends or even strike up a conversation with the owners themselves. The inviting ambiance, combined with the irresistible aroma of freshly baked bagels, creates an experience that keeps customers coming back for more.
Well you must feel hungry and yearning for some sweets by now!! The Sandrine Deschaux + Co Group will be happy to meet you in one of those delightful bakeries to talk about your real estate project. Contact Sandrine Deschaux or Maria Perez at 857.204.9872 to schedule a first consultation.