Over the Charles River from Boston sits the East Cambridge area: A vibrant and diverse neighborhood and a hub of education and home to prestigious universities and world-renowned life science and tech. With its interesting industrial history, the neighborhood has a unique character and charm. From luxury apartment buildings to historic homes and condos, East Cambridge offers a range of housing options to fit different lifestyles.
FROM MILLS TO TECH, LEARN ABOUT EAST CAMBRIDGE'S HISTORY AND ECONOMIC DEVELOPMENT


A long history may be traced back to the 17th century in East Cambridge. It was mostly a farming village with a tiny population in the early years. With the development of factories and mills along the Charles River, the region flourished and became increasingly industrialized throughout time. East Cambridge was a thriving manufacturing hub by the middle of the 19th century, with a varied economy that included sectors including furniture manufacturing, textile manufacturing, and meatpacking.
East Cambridge went through a period of decline during the 20th century as many of its manufacturers and mills either down or relocated. Nonetheless, a rush of new businesses and inhabitants brought about a rebirth of the region in the 1980s and 1990s. The expansion of the nearby Massachusetts Institute of Technology (MIT), which attracted a swarm of tech startups and research facilities, served as the catalyst for this development.



A WELL-CONNECTED NEIGHBORHOOD


East Cambridge is renowned for its thriving restaurant scene, which offers a wide selection of international food. Popular restaurants like Area Four, which serves wood-fired pizza, and Cafe ArtScience, which serves a variety of foods and cocktails in a setting with a science theme, are located in the neighborhood. East Cambridge may be reached quickly and simply by public transit using the MBTA Gree Line at Lechemere. Also, the neighborhood has quick access to important highways including Storrow Drive and Route 93.
East Cambridge sits in very close proximity to Downtown Boston with its connection though the Lechemere Canal and the Longfellow Bridge, if you like to walk or bike, you can enjoy the sights at the North Point Park near EF Education, or the Cambridge Crossing Park and make a stop at the incredible Museum of Science.
INFINITE ENTERTAINMENT OPTIONS FOR ALL TASTES


Being a hub of tech, education and innovation has created an ecosystem perfect for the curious mind. Unwind your curiosity at the most iconic East Cambridge places
The Museum Of Science. The Museum of Science has a long history, dating back to its founding in 1830 as the Boston Society of Natural History. Today, the museum features a wide range of exhibits and activities that explore topics such as astronomy, biology, engineering, and physics. One of the museum's most popular attractions is the Charles Hayden Planetarium, which features a state-of-the-art digital projection system that can display stunning, high-definition images of the night sky. The planetarium also hosts a variety of shows and events, including live presentations and multimedia experiences. The museum also offers a variety of educational programs for students and families.


The Landmark Kendall Square Theater Seating at the border of Kendall Square and East Cambridge, The theater is part of the Landmark Theatres chain, which is known for showing independent and foreign films.The Landmark Kendall Square Cinema has a long history, dating back to its founding in 1995. The theater features seven screens and offers a variety of films, ranging from documentaries and foreign films to Hollywood blockbusters.


Shop at the CambridgeSide Galleria The mall was first opened in 1990 and has since undergone several renovations and expansions. The CambridgeSide Galleria features a wide range of stores, restaurants, and other amenities for the Cambridge community. Additionally, the mall offers a variety of services and amenities for shoppers, including valet parking, free Wi-Fi, and a customer service desk.


Community Events at The Cambridge Foundry. The Foundry is a historic building located in East Cambridge, Massachusetts. Originally constructed in the late 19th century, the building was used for many years as a factory and manufacturing facility. In recent years, the building has been redeveloped and transformed into a vibrant community space that serves as a hub for innovation, entrepreneurship, and creativity.


Borrow a book at the new Valente Public Library or the neighborly O'Connell public library branch.

The Valente Public Library was opened in 2019 and is part of the King Open and Cambridge Street Upper Schools. It offers over 10,000 square feet of space and is easily accessible via the 69 bus. 

The O'Connell community library is named after the mayor of Cambridge from 1960 to 1970. Whether you're looking for a new book to read, a place to work or study, or a fun activity for the whole family, the O'Connell Branch is a great resource for the East Cambridge community. The O'Connell Branch is one of six branches of the Cambridge Public Library system, and it serves as a vital resource for the local community. The library's collection includes a wide range of materials, including books, magazines, DVDs, and CDs. In addition to its print collection, the library also offers a variety of digital resources, including e-books, online databases, and digital magazines.
ENJOY A DELICIOUS BITE AT ONE OF THESE CULINARY EAST CAMBRIDGE EATERIES & RESTAURANTS


East Cambridge is home to a diverse culinary scene that offers a wide range of options for families and couples looking for a great meal or a fun date. Here are some brief descriptions of some of the popular restaurants and cafes in the area:
Desfina. This Greek restaurant offers a menu of traditional dishes, including grilled meats, seafood, and vegetarian options. The restaurant is known for its warm and welcoming atmosphere and its authentic Greek flavors.
The Cheesecake Factory. A popular chain restaurant, The Cheesecake Factory offers a menu of American and international dishes, as well as a wide variety of desserts, including their famous cheesecakes.
Toscanini's Ice Cream. This local ice cream shop has been a Cambridge institution for over 35 years. Toscanini's offers a variety of unique and creative flavors, as well as classic favorites like chocolate and vanilla.
Sumiao Hunan Kitchen. This Chinese restaurant offers a menu of spicy Hunan-style dishes, including noodles, stir-fries, and meat and seafood dishes. The restaurant's modern decor and lively atmosphere make it a great spot for a date night.
Curio Coffee. This cozy cafe offers a variety of specialty coffee drinks, as well as pastries and light bites. The cafe's warm and inviting atmosphere makes it a great spot to meet up with friends or work on your laptop.
Passage to India. This Indian restaurant offers a menu of classic dishes, including curries, tandoori dishes, and vegetarian options. The restaurant's colorful decor and flavorful dishes make it a great spot for a family meal or a date night.
Lamplighter Brewing Co. - CX. This local brewery offers a rotating selection of craft beers, as well as a menu of light bites and snacks. The brewery's industrial-chic atmosphere and lively vibe make it a great spot for a casual night out.
Second Street Cafe. This cozy cafe offers a variety of breakfast and lunch dishes, as well as coffee and other beverages. The cafe's friendly staff and comfortable atmosphere make it a great spot to grab a bite with friends or family.
Batifol Restaurants and soon Bakery on 3rd Street. This is a French restaurant located in East Cambridge, Massachusetts. The restaurant offers classic French cuisine in a cozy and inviting atmosphere. Some popular dishes at Batifole include the escargots, steak frites, and bouillabaisse. They also offer a variety of French wines to complement the meal.
Tatte Bakery on 3rd Street. Tatte Bakery is a popular bakery chain with several locations throughout the Boston area, including one in East Cambridge. The bakery offers a range of baked goods, including pastries, breads, cakes, and cookies. They also offer a variety of sandwiches, salads, and other light fare for breakfast, lunch, and brunch. Some popular items at Tatte Bakery include the avocado tartine, shakshuka, and the Nutella croissant.
THE ZIP CODE 02141. THE REAL ESTATE IN EAST CAMBRIDGE


East Cambridge has experienced a boom in real estate construction in recent years, with brand-new apartment complexes and opulent condos popping up all over the place. As a result of this development, there have been some worries about gentrification and displacement as well as an increase in new residents and rising property values.
Overall, East Cambridge's history and economic growth have helped to create a vibrant, varied neighborhood with a special fusion of the old and new. The neighborhood has become a popular place to live, work, and play. As a result, we have seen a surge in residential development over the years, with a variety of options available to those looking to call East Cambridge home.

From luxury apartment buildings with high-end amenities to charming brownstones and historic homes, East Cambridge offers a diverse range of options to fit a variety of lifestyles and budgets. Whether you're a young professional looking for a sleek and modern apartment, a family in search of a spacious townhouse, or a student seeking an affordable and convenient living option, there are plenty of rental properties to choose from in East Cambridge.
With easy access to public transportation and major highways, residents of East Cambridge can easily explore all that the Boston area has to offer. It is only 2 T stops from Lechmere, Green Line, to Downtown Boston or from Kendall Square T station on the red line.
Search here for homes for sales in 02141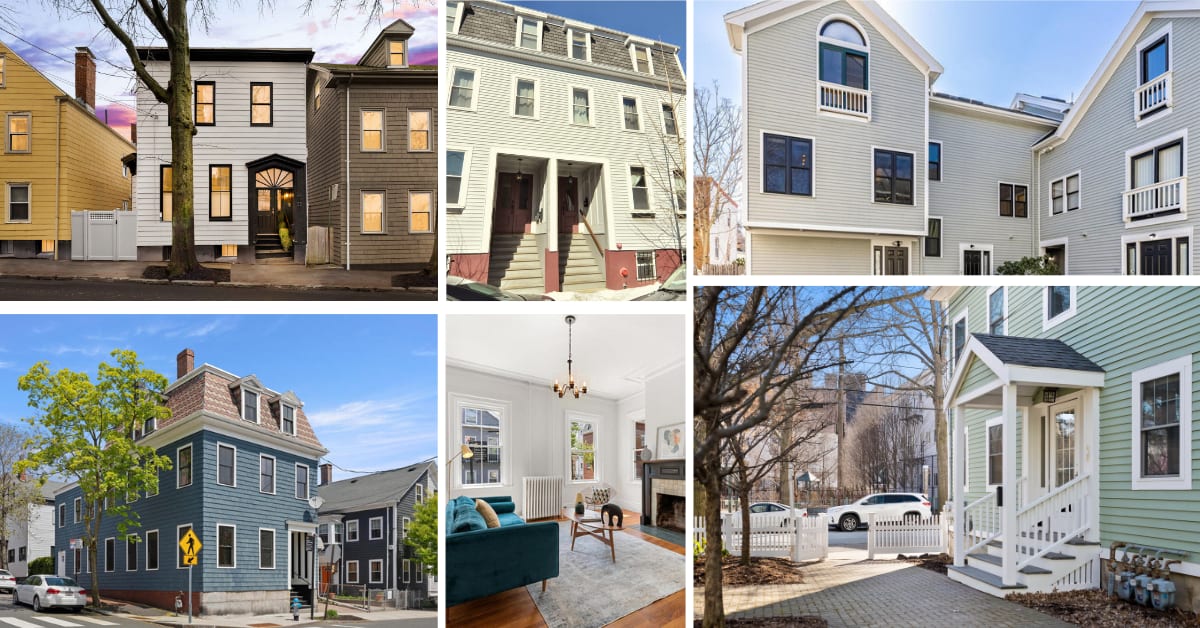 THE LUXURY APARTMENTS BUILDINGS IN EAST CAMBRIDGE


EAST CAMBRIDGE, AN EDUCATIONAL HUB


Now, East Cambridge is a dynamic community with a variety of housing, business, and academic options. With a significant concentration of biotech, software, and internet businesses, the region has emerged as a magnet for innovation and entrepreneurship. Many top-notch research institutes, such as MIT and the Broad Institute of MIT, Hult University and Harvard, are also located in the vicinity.
Massachusetts Institute of Technology. The Massachusetts Institute of Technology (MIT), a renowned research university renowned for its scientific and engineering departments, is one of the significant monuments in East Cambridge. The MIT campus, which includes several research facilities, academic structures, and dormitories, takes up a sizable chunk of East Cambridge.
Hult University. Hult International Business School is a private business school with campuses in several cities around the world, including Boston, San Francisco, London, Dubai, Shanghai, and others. The school was founded in 1964 and originally operated as the Arthur D. Little School of Management before changing its name to Hult International Business School in 2003. Hult offers a range of undergraduate, graduate, and executive education programs in business and management, including Bachelor of Business Administration (BBA), Master of Business Administration (MBA), Executive MBA (EMBA), and other specialized business programs.
King Open Elementary School & Cambridge Street Upper School. The King Open School is an inclusive learning community from Grade PK, K-5. This School home to the Olá English-Portuguese two-way immersion program. King Open Extended Day (KOED) is the school's unique after school program through collaboration with the Department of Human Services.
Kennedy-Longfellow School. The school is fairly new and it was formed in 2002 through the merger of the Longfellow Elementary School and the Kennedy Elementary School. Today, the Kennedy-Longfellow School is known for its diverse student body and strong academic programs. The school has a dedicated staff of teachers and administrators who work to provide a supportive and inclusive learning environment for all students. When it comes to early life education, the Kennedy-Longfellow School serves students in grades K-5 and is part of the Cambridge Public School district.
The Community Charter School of Cambridge on Bent Street. The Community Charter School of Cambridge (CCSC) is a public charter school located in Cambridge, Massachusetts. It was founded in 2005 with the goal of providing a high-quality education to a diverse student population in the Cambridge area. CCSC serves students in grades 6-12 and has a focus on project-based learning and college preparation. The school's curriculum emphasizes critical thinking, problem solving, and collaboration, and is designed to prepare students for success in college and beyond.
EAST CAMBRIDGE, HUB OF TECHNOLOGY & INNOVATION

Right at the border of Area Four at the Port and East Cambridge, we can find quite a few entrepreneurial ecosystems known for their thriving innovation. The neighborhood is in close proximity to numerous startups and tech companies, particularly in the fields of biotech, software, and internet technology. Some of the notable companies with a presence in the area include Google, Sanofi, Microsoft, Novartis, and Pfizer. The area is also home to several world-class research institutions, including the Broad Institute of MIT and Harvard, and the Whitehead Institute for Biomedical Research. Despite the concentration of high - tech companies and research institutions in the area, East Cambridge also has a diverse mix of small businesses and local shops. The neighborhood has a diverse mix of businesses and local shops, with a vibrant restaurant scene.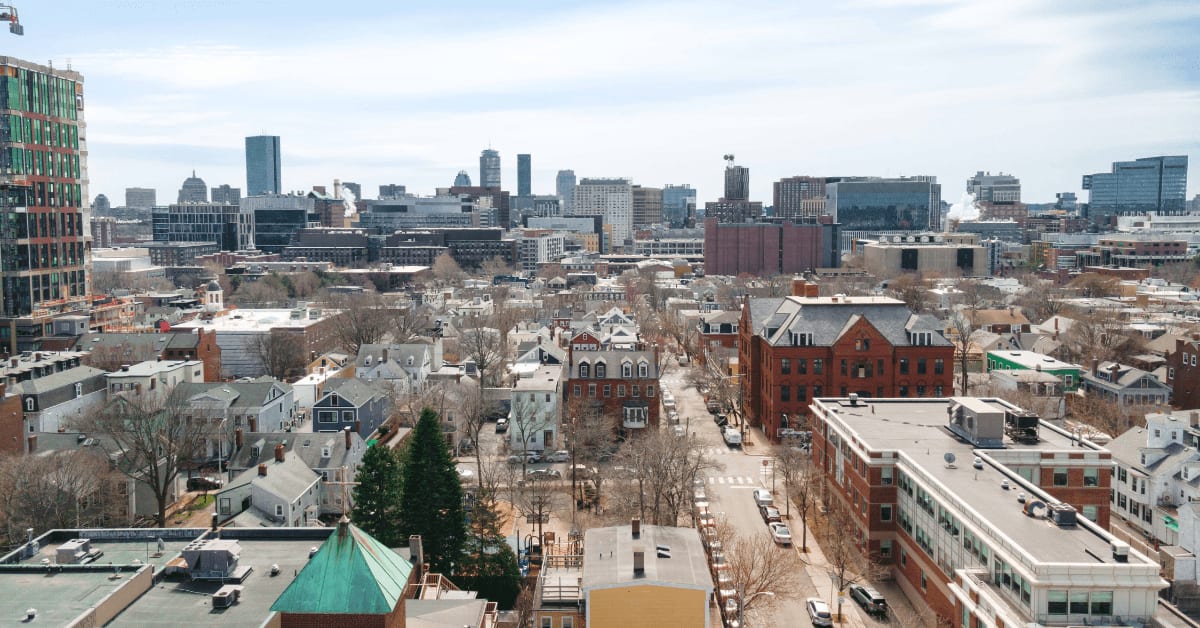 EAST CAMBRIDGE'S BEST ASSET: ITS PEOPLE


Certainly, East Cambridge is a diversified area in terms of both its people and its businesses. Residents of the East Cambridge neighborhood come from a diversity of racial, ethnic, and socioeconomic backgrounds. There are also a range of enterprises in the area, from local start-ups to global conglomerates. Based on the most recent U.S. According to census data, East Cambridge has a population of around 12,000 individuals who come from a variety of racial and cultural backgrounds. The population is made up of roughly 48% white people, followed by 19% Asians, 15% Hispanic or Latino, and 14% Black people. Also, there is a sizable immigrant population, with many citizens coming from nations like China, India, and Brazil.
East Cambridge is well-known for its flourishing innovation and entrepreneurial ecosystem when it comes to businesses. Several innovative startups and firms are based in the area, particularly in the biotech, software, and internet technology sectors.
East Cambridge is home to a variety of small businesses and neighborhood stores despite the area's concentration of high-tech firms and research facilities. The area is home to a thriving restaurant scene with a wide selection of international cuisines as well as a number of independent bookshops and clothing stores. All things considered, East Cambridge is a vibrant and varied community with a mix of residential, business, and academic options.
If you are considering this neighborhood for a living, contact Cambridge real estate agent, Sandrine Deschaux, founder of Sandrine Deschaux + Co with RE/MAX Destiny at 857.204.9872. She and her team will help you assess the East Cambridge neighborhood and the housing options available.