Davis Square is a vibrant neighborhood located in Somerville, Massachusetts, just north of Cambridge. It was farmland in the early 1800s.The electric streetcar brought substantial growth in the late 1800s. This transportation invention allowed individuals to live farther from the city and commute to work, creating neighborhoods like Davis Square.
Former Massachusetts governor John Wesley Davis, who owned a huge house nearby, called the square. Davis Square had several businesses, restaurants, and entertainment venues in the early 1900s.As residents relocated to the suburbs and the plaza deteriorated, the neighborhood declined in the mid-20th century. In the 1980s, local shop owners and people revitalized Davis Square, turning it into a vibrant, colorful neighborhood.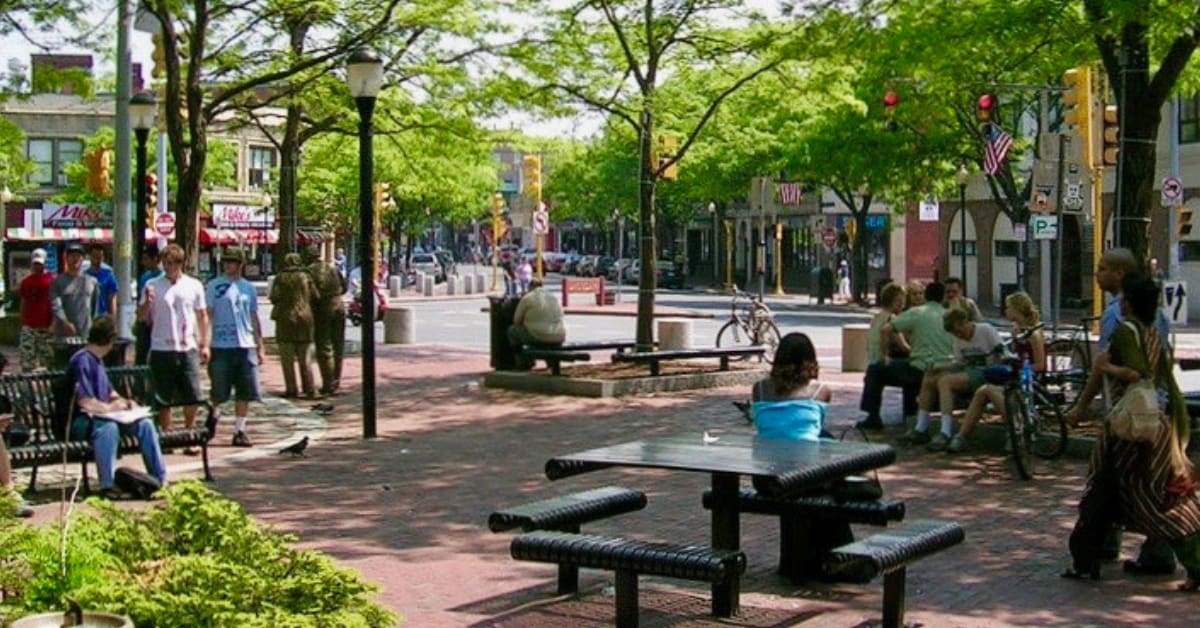 THE DAVIS SQUARE ACTION PLAN, REVITALIZATION REIMAGINED

The Action Plan launched in this decade, sought to boost business with the Davis Square Red Line subway station without harming the neighborhood's stature and charm. It proposed:
New bike paths along the former railway line
Small, well-spaced parking lots
Davis Square was designated a Commercial Area Revitalization District, qualifying investors for state aid.

THE PRESENT

According to online reviews and comments from residents, Davis Square is often described as a vibrant, diverse, and VERY friendly neighborhood. Many people appreciate the mix of old and new buildings, the variety of shops and restaurants, and the easy access to public transportation. It is a place to live history, present and future.
In terms of demographics, Davis Square is known for its diverse population. According to the U.S. Census Bureau, the neighborhood has a population of around 23,000 people, with a mix of ethnic and racial backgrounds. Roughly 62% of residents are white, 16% are Asian, 10% are Hispanic or Latino, and 7% are Black.
The neighborhood is also home to a significant number of young professionals and students, as it is located near several universities and colleges, including Tufts University and Harvard University. This demographic mix contributes to the lively and eclectic atmosphere of the neighborhood.
Overall, Davis Square is known for its unique character, diverse population, and lively atmosphere, which make it a popular destination for residents and visitors alike.
Davis Square now has independent booksellers, stylish eateries, and pubs. The square has several paintings and installations of street art that we will explore in this blog entry.
THE MANY CULTURAL DESTINATIONS
Many people in Somerville consider Davis Square to be the city's cultural epicenter. Locals and tourists alike go there to see its thriving artistic culture and exciting nightlife. Living in a place like Davis Square can be a wonderful privilege, as it allows you to be part of a vibrant and diverse community that values the arts, education, and cultural enrichment. The Somerville Theatre and the Davis Square Branch of the Somerville Public Library are two examples of the kinds of cultural organizations that can make a community special. These institutions offer a range of programs and events that can appeal to people of all ages and interests.
THE SOMERVILLE THEATER. The Somerville Theatre is a historic movie theater located in the heart of Davis Square. Since 1914, it has served the community. The theater's sign and décor have survived multiple modifications. They provide a unique moviegoing experience, with its historic ambiance and diverse programming. It also hosts live performances, giving residents the opportunity to see top-notch entertainment without having to leave their neighborhood. The theater has hosted Bruce Springsteen, Elvis Costello, and David Bowie. The Somerville Theatre has struggled financially in recent years, raising questions about its future. The community has supported the theater, and efforts are on to keep it running.
CENTER FOR ARABIC CULTURE. Located on Elm Street, this center offers classes in Arabic language, culture, and history. It also hosts cultural events and workshops, and serves as a community hub for Arabic-speaking individuals in the area.
DAVIS SQUARE BRANCH OF THE PUBLIC LIBRARY. The Davis Square WEST Branch provides a variety of services and activities for all ages. Since 1975, the Davis Square library has undergone many modifications to better serve its visitors. Whether you're looking for a good book to read, access to technology, or educational programming for your children, the library has something to offer. The library has computers, videos, books, and other resources. It holds author presentations, book groups, and children's story times. Budget restrictions and the COVID-19 epidemic have plagued the Davis Square Branch of the Somerville Public Library. However, the library has adapted and evolved to suit users' evolving requirements, and efforts are ongoing to ensure its success and relevance in the community.
ARTS AT THE ARMORY. The historic Somerville Armory is near Davis Square. It was erected in 1898 as a military armory for the Massachusetts Volunteer Militia and trained troops in the early 20th century. The Armory was a storage facility and film studio before becoming a community arts center in the early 2000s. The Center for Arts at the Armory, Greater Boston Stage Company, and Somerville Media Center all call the Armory home. The Center for Arts at the Armory hosts concerts, dance performances, visual arts exhibits, and artistic workshops. The Greater Boston Stage Company performs classic and modern plays. The Somerville Media Center provides training and tools for media production. Somerville artists and cultural groups cooperate and produce at the Armory. It hosts farmers markets, festivals, and other community activities.

The Armory contributes to Somerville and Boston's culture. It offers a unique and historic space for artists and cultural organizations to create and perform, and provides a valuable resource for the community.


Davis Square has a long tradition of promoting and presenting the arts, as seen by its abundance of theaters, concert halls, art galleries, and cultural institutions. The area is also convenient for families and students because of the high-quality schools found there and its closeness to renowned universities like Tufts University.


MIXING THE OLD AND THE NEW, EXPERIENCE THE JOY OF DIVERSE REAL ESTATE IN THE HEART OF SOMERVILLE
Davis Square has undergone extensive renovations, yet the area's signature feel and design have been preserved. The goals of the revitalization have included boosting the community's infrastructure, attracting new companies, and enriching the arts and entertainment offerings. As a result, Davis Square is now home to numerous locals, visitors, and companies.
Davis Square has a wide selection of homes for sale to meet the needs of every buyer. Davis Square is a neighborhood in Boston with a wide range of housing options, from antique Victorians to modern condominiums and flats, and even some single-family houses. If you go on a stroll on Cedar Street, Gorham and so on you will know what we mean.
Definitely one of the best parts of living in Davis is its proximity to all the entertaining the square has to offer such as the cultural centers we mentioned, a picturesque night scene and plenty of restaurants, but more on that later.
When it comes to housing options, Davis Square is diverse enough to meet the needs of any buyer, whether they're a young professional in need of a sleek condo, a family in search of a spacious single-family home, or a budget-conscious renter in search of an affordable apartment building. While some Davis Square residences have been refurbished to provide contemporary conveniences, others have maintained their original integrity making them the perfect mix between the old and the new.
As mentioned, residences in Davis Square are within walking distance of the square's many businesses, restaurants, and cultural organizations, contributing to the area's reputation for convenience and walkability.
The Davis Square MBTA Station serves the area effectively, allowing residents quick and simple access to the rest of Boston and beyond. There are also several bus lines connecting the square with the rest of Somerville like for example Teele and Union Square.
If you value history and convenience Davis Square is definitely a great place to live and a homebuyer or renter. Now, let's move onto the most iconic places for nature loving neighbors like you.


A PLACE FOR OUTDOORSY ACTIVITIES
Davis Square locals know how to make the most of each season by enjoying the outdoors, be it by playing in the snow or basking in the heat. They still go out and about in the snow and when summer arrives, they may be found lounging in the parks and along the bike routes, drinking iced coffee and enjoying the sunshine and some live music in the square.
As a community, they are always prepared to take on the elements and take advantage of everything that this exciting neighborhood has to offer, regardless of the weather.
But look at it for yourself, when you visit Davis Square and Somerville you will notice its many parks and recreational amenities. Some of the more well-liked choices are as follows:
SOMERVILLE COMMUNITY PATH AKA. THE BIKE PATH. The Somerville Community Path is a well-liked walking and biking path that winds its way through the city's core, linking together a number of different residential areas and offering a convenient connection between them. The 1.8-mile-long route connects Davis Square and Cambridge's Alewife MBTA Station, serving as a vital link for commuters going in both directions.

The route is paved and broad enough for walkers and bicycles, and in some places it is divided from the roads by a grassy strip or a barrier. There are communal gardens, public art displays, and playgrounds scattered throughout the walk. Linear Park and the Somerville Community Growing Center are just two of the many parks that are easily accessible from the area.

The "Community Mosaic" initiative, in which colorful, hand-made mosaics embellish the retaining walls along the route, is one of the most interesting aspects of the Somerville Community route. Scenes from Somerville's past and present are depicted in these mosaics by local citizens and artists. The Somerville Community Path is a popular place for locals of all ages to go for a stroll, run, bike ride, or even roller skate along. It's a vital means of transit that helps people go to and from work, school, and other destinations in nearby municipalities.
SOMERVILLE COMMUNITY GROWING CENTER. Located at 22 Vinal Avenue, the Somerville Community Growing Center is a one-of-a-kind public garden in the middle of Somerville, Massachusetts's Davis Square. The facility is run by a group of committed volunteers and is classified as a 501(c)(3) non-profit corporation.

A half-acre plot of land has been developed into a bustling community garden and gathering area known as The Growing Center. There is a big garden area on the property, and locals may rent out individual plots to cultivate their own fruits, nuts, and herbs. Several of the garden beds are elevated, making them suitable for people with limited mobility. The Somerville Community Growing Center has more than just garden plots; it also has a wide central lawn, a picnic area, a children's garden, and a small orchard for community use. A sculpture garden and a mural commemorating Somerville's history may also be seen on the property.

This beautiful garden plays host to a wide range of events and activities throughout the year, from gardening seminars to musical performances and art exhibits to holiday festivities. The center collaborates with regional educational institutions and community groups to provide courses for both young and old.

On your next stroll, I encourage you to come see a vital facility for locals of all ages, as it serves as a meeting place and venue for outdoor activities and sustainable farming. It's proof that ordinary people can make a difference when they band together via grassroots organization.


THE POWDER HOUSE. Located immediately south of Davis Square, the Powder House is a historic structure in Somerville, Massachusetts. One of the earliest stone buildings in the United States, it was built in 1704 to house gunpowder during the French and Indian Wars. The Massachusetts militia utilized the Powder House to store munitions, and it was eventually converted into a grain and hay storage facility. A local farmer acquired the structure in the early 1800s and put his horses in it. After purchasing it in 1842, the city of Somerville transformed the Powder House into municipal offices. The fire station, voting place, and public restrooms were just some of the many uses for the facility in the years that followed its construction.

In modern times, the Powder House has become an iconic emblem of Somerville's cultural and historical significance. The city is responsible for the building's upkeep and hosts several events and excursions there annually. Visitors to the Davis Square region also enjoy exploring the Powder House Square neighborhood, which is home to many stores, restaurants, and cultural activities.


TUFTS UNIVERSITY CAMPUS. The campus has several green areas perfect for exercise and relaxation. There are a number of green spots on campus, such as the Tufts President's Lawn and the Memorial Steps, both of which provide beautiful panoramas of Boston and its environs.


HODGKINS-CURTIN PARK. Located directly north of the Davis Square MBTA station, the park occupies a triangular plot of land at the crossroads of Dover Street, Day Street, and College Avenue. Harold Hodgkin and Joseph Curtin, two locals of Somerville, were both killed in World War II, and the park that bears their names was dedicated in their honor. A tiny memorial plaque honoring them may be seen in the park with many benches, flower beds, and a walking route.

In the warmer months, the park fills up with folks looking to unwind and take in some fresh air. Due to its proximity to numerous major cycling and walking trails, including the Somerville Community Path, it is also a popular place for dog-walking and running.

The park has been updated and improved over the past several years with the addition of fresh landscaping and seating areas. The park is available all year and is cared for by the city of Somerville. In sum, Hodgkins-Curtin Park is a treasured element of the Davis Square neighborhood and a beautiful place for a calm stroll or a picnic.


HOME OF SPORTS: THE NUNZIATO FIELD. While not technically in Davis, the park was named after the Nunziato family, who were prominent members of the neighborhood for many years and it's a favorite for dog lovers since a portion of it is dedicated exclusively for the delight of your furry friend! Besides this, Baseball, soccer, and basketball are just a few of the many popular outdoor activities that take place on Nunziato Field. A baseball diamond, a soccer field, and a basketball court can all be found at this park, in addition to a playground and picnic tables. This field also hosts a number of community activities, including concerts, movie screenings, and holiday festivities, in addition to its sporting events. The park is highly valued by the locals since it serves as a meeting place for individuals of all ages and walks of life.
DILBOY STADIUM, a multi-use outdoor sports complex not far from Davis Square. The stadium honors U.S. Army Sergeant Charles J. Dilboy, a World War I hero who was posthumously awarded the Medal of Honor. The stadium often hosts soccer, football, and track and field events, among others. A synthetic grass field, six-lane track, and room for 2,000 spectators are all part of the deal. The stadium has cutting-edge lighting, so events may take place at night if necessary. Dilboy Stadium is more than just a place to watch sports; it also has a food stand and bathrooms for fans. The stadium is a popular spot for sports teams and individual athletes to prepare and compete because it is available to the public year-round. Dilboy Stadium has been updated with additional features and amenities in recent years, such as a new sound system and new bleachers. Somerville takes care of the stadium because it's a valuable public amenity that brings people of all ages and walks of life together for sports and other recreational activities.
One of the great things about Somerville's outdoor spaces is their diversity. The city's parks and recreational facilities are located in different neighborhoods, each with its own unique character and attractions. For more information about those, just stay tuned to this blog. As experts selling real estate, we had the privilege to become experts in the local life of the place we proudly represent so we are always happy to offer the best information so you can make an informed real estate decision.
In any case, another notable aspect of Somerville's outdoor spaces is their desirability. Residents and visitors alike appreciate the accessibility and quality of the city's parks and facilities. With well-maintained amenities and beautiful natural surroundings, these spaces provide a welcoming and enjoyable environment.
Overall, Davis Square is a testament to the city's commitment to providing a healthy and vibrant community for all its residents.
Hungry from all this walking and recreation activities? Not a problem, from the best pizza, other italian delights and healthy bites, Davis has the best local options. The best part? Most of these are again within walking distance from major residential streets Like Paulina Street, Cedar Street or Gorham Street.


DAVIS SQUARE, THE EPICENTER OF WARM TASTES OR ALL BUDS


Davis Square is known for its vibrant local food scene that boasts a wide range of culinary options. From classic American diners to international cuisines, the neighborhood has something to satisfy every taste bud. The area's diverse population and creative community have helped to establish a thriving food culture that has become a hallmark of the neighborhood. In fact, Davis Square is often praised for its high concentration of purely local restaurants, which is relatively rare compared to other cities. So, whether you are a foodie looking to explore new flavors or simply someone who loves to eat out, Davis Square has something for you.
ROSEBUD AMERICAN KITCHEN. Rosebud American Kitchen & Bar is a popular restaurant located in the heart of Davis Square, Somerville, Massachusetts. The restaurant is known for its classic American cuisine, which includes a range of dishes that feature fresh, locally sourced ingredients. The interior of Rosebud American Kitchen & Bar is designed to look like a classic American diner, with booth and counter seating, vintage-style signage, and a jukebox that plays old-school tunes. A truly instagrammable place with a deniable local vibe! The atmosphere is casual and relaxed, making it a great spot for a meal with friends, family, or a date.

The menu at Rosebud American Kitchen & Bar is extensive, with a range of options for brunch, lunch, and dinner. For brunch, popular dishes include the buttermilk pancakes, the breakfast burrito, and the biscuits and gravy. For lunch and dinner, popular dishes include the fried chicken sandwich, the mac and cheese, and the slow-roasted pork shoulder. The restaurant also offers a range of burgers, salads, and sides, as well as a kids' menu for younger diners.

DAVIS SQUARE, ALSO A THRIFTY PARADISE.


Is no question thrifting has become a well-known shopping practice for the environmentally conscious /fashionista shopper. Davis Square, besides being the pinnacle of arts and culture, also has a very strong fashion scene supported by the most unique shops for finding vintage gems at an affordable price. You can easily score a $1,400 Yigal Azrouel jacket for less than $100 at one of these whimsical stores. Today we are going to feature Swank Seconds at 387 Highlight Ave. This cute shop has a great selection of clothing, shoes and accessories from different designer brands and time periods.


THE DIFFERENT EDUCATION OPTIONS IN A SMALL MILE RATIO….



The Davis Square area is served by several public schools that offer quality education to children of all ages, from kindergarten through high school. With a wide range of educational options available, this is an ideal location for families and individuals seeking a diverse and enriching educational experience.
SOMERVILLE HIGH SCHOOL. Located at 81 Highland Avenue, outside Davis Square, this newly rebuilt public high school serves over 1,000 students. It offers a wide range of courses, including Advanced Placement classes, and has a strong arts program. The school is committed to providing a safe and inclusive environment for all students.


THE BROWN ELEMENTARY SCHOOL. Located on Willow Avenue, this public elementary school serves students in grades K-8. It offers a dual-language program in which students learn in both English and Spanish. The school has a strong focus on community involvement and social justice.


TUFTS UNIVERSITY. Davis Square is not only home to great schools and educational institutions within its immediate vicinity, but it is also in close proximity to several renowned universities and colleges. One of these institutions is Tufts University, which is located just a short distance away in neighboring Medford, Massachusetts. Tufts is a private world-class research university with a renowned School of Arts and Sciences, School of Engineering, and School of Medicine, among other programs.

Living in Davis Square provides easy access to Tufts' many educational resources, including libraries, research centers, and our course: more cultural events.
DAVIS SQUARE HOMES & REAL ESTATE


Davis Square is a residential neighborhood between Teele Square and Spring Hill. It is comprised of single family homes within the square vicinity and mostly two-family 1900-1920's buildings. Somerville is an eldorado for condo conversion with many developers renovating and converting two-unit building into luxury condominiums.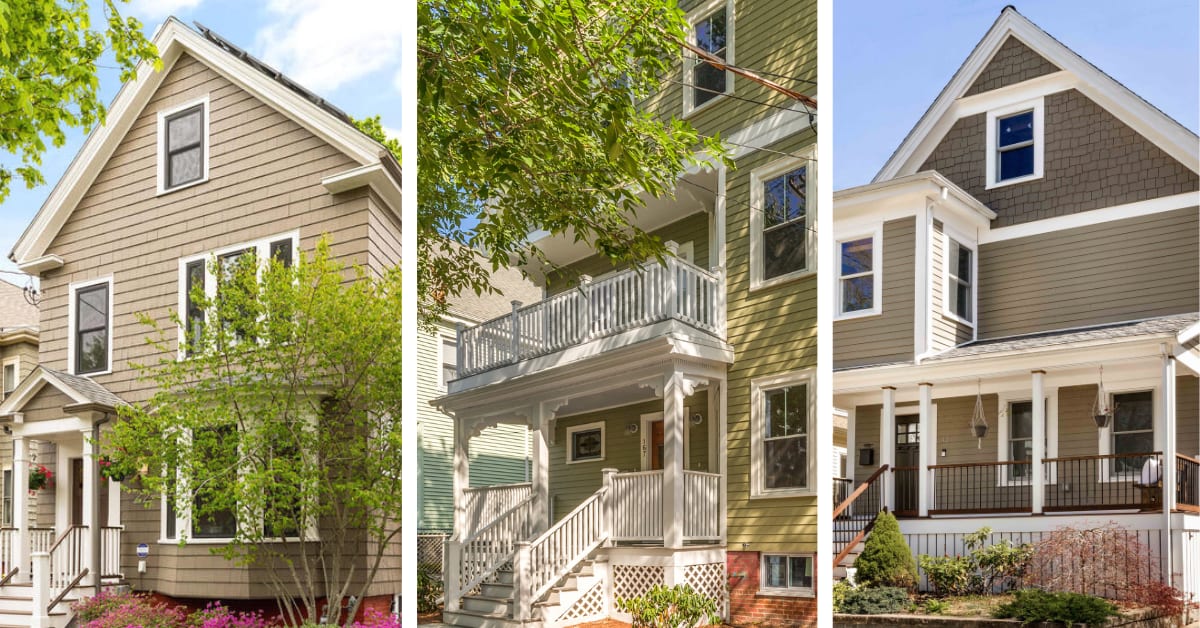 If you are considering this neighborhood for a living, contact Cambridge real estate agent, Sandrine Deschaux, founder of Sandrine Deschaux + Co with RE/MAX Destiny at 857.204.9872. She and her team will help you assess the Davis Square neighborhood and the housing options available in the vicinity of this vibrant square.