Forecasting the future of our local Cambridge real estate market in 2023
As we kick off a new year and 2023, let's peek at today's market and how the real estate market behaved in 2022.
Despite a challenged real estate market in 2022 which can be split into 2 semesters:
one bustling with bidding wars triggered by both an all-time low inventory and interest rates 3.5% from January to late May,
and the 2nd semester hit strongly by inflation and June headlines on interest rates hikes (from 5-7% in the fall for conventional loans), property's values still show overall appreciation and prices increase.
In all local marketplaces, the average sales prices were up over 10% in 2022.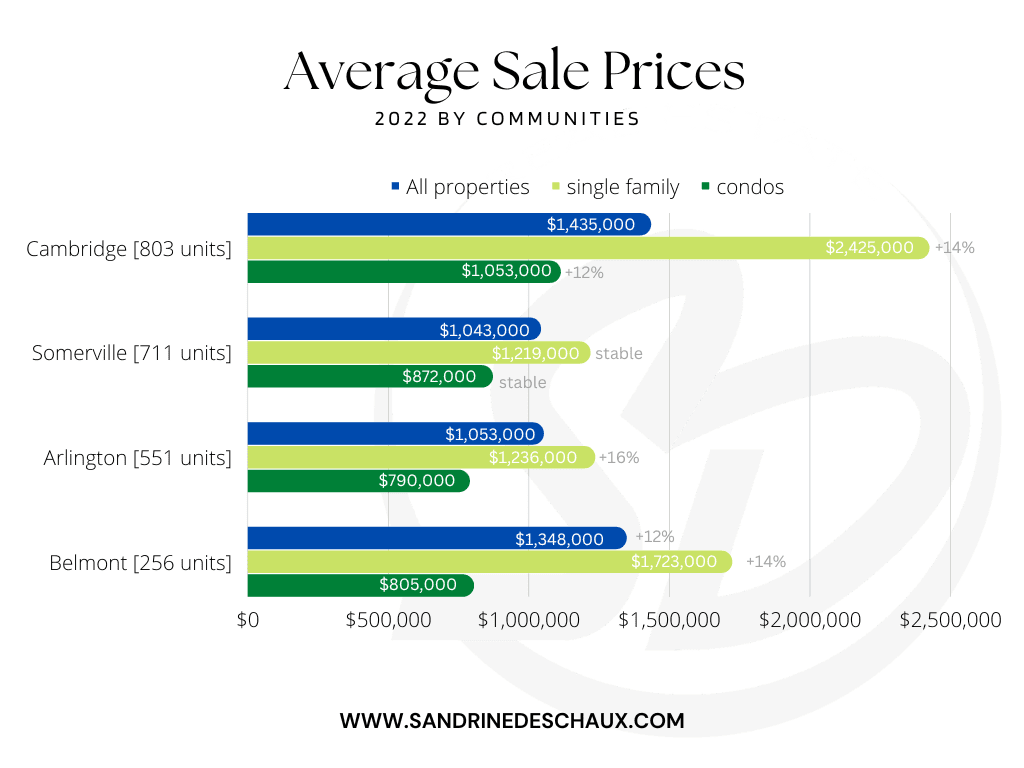 Arlington is still on the rise since the pandemic (2019) and shows the strongest price appreciation due to a rising demand particularly for the segment Single family homes which represent 53% of the market with 288 homes sold in 2022. The average sale price for a single family is similar to the one in Somerville. The average sale price is $1,220,000 today (median price $1,100,000-1,150,000) for both towns.
The most expensive home sold in Arlington was the Edward T. Hornblower House, circa 1875, one of the treasures of Historic Arlington Center. It is located at 30 Academy Street and sold for $3,250,000.
Somerville remains relatively stable in 2022 probably under the pressure of a larger inventory with many new condo conversions and newly built buildings Somerville. It remains a strong condo market with only 78 single family homes sold in 2022 with an average sale price at $1,212,000 (similar to Arlington) and 168 multi-unit buildings whose average price is today at $1,431,000.
The most expensive home sold in Somerville was about 3000 sf, all new renovated, located at 28 Milton Street on the doorsteps of Davis square. It sold for $2,800,000.
The Cambridge real estate market continues to appreciate with average sale prices over 10% higher than in 2021.

The single-family homes marketplace is robust with a strong demand and the average sale price for a house in 2022 was $2,425,000 (+14%). We sold 114 homes out of 803 properties, which represents only 14% of the entire market. This segment will keep on remaining strong and in high demand due to the scarcity of this kind of inventory. Note that 35% of single-family homes - 41 homes - sold over $2,000,000.
The most expensive house that sold in Cambridge in 2022 was a 9000 sf brand new renovated manor style home with the most high-end finishes, located at 10 Channing Street off Brattle Street in 02138. It sold for $12,500,000.
589 condominiums were sold with an average price of $1,053,000 and median at $907,000. Prices skyrocketed early in the year under market pressure and low interest rates which commanded multiple bids and a sale price/list ratio well over 10%.
Finally, the relatively small marketplace of Belmont (256 properties sold in a year) kept on going with an average sale price for single family homes at $1,723,000. Belmont still benefits from a desirable location, the high Cambridge prices and a reputable school system making it a destination to families.

The most expensive home sold in Belmont Mass was an 8700 sf house renovated in 2016 in one of the most coveted exclusive Belmont Hill neighborhoods near the Mass Audubon Habitat. It was 5 Sumner Ln and sold for $5,400,000.


How to read the data and light our way to value and price real estate in 2023?
Pricing real estate will be more than ever tricky and critical for the success of your sale. Homes affordability has dropped 40% since June, and basically the same property costs an average of +-$1,000/month to any buyers today in a market such as Cambridge. The market has adjusted to this new reality over the fall season – first withdrawing - and is now making decisions accordingly. Price wise, the market has adjusted down over the Fall. Shall we consider 2021 as an anchor year to price, find a way in the middle, weigh the new inventory…? Probably all of it. Are some properties more affected than others? Definitively.
More than ever hiring a real estate agent with a pulse into the local market is your best bet to avoid the pitfall of over-pricing, sitting long and selling below possible and expectations.
What can we expect in 2023 in Cambridge Mass and beyond?
As we enter 2023, one thing is sure—Boston/ Cambridge and the surrounding towns will remain extremely desirable for residents and investors alike. Population growth is expected in the next decade as more people flock to the Boston/Cambridge area for jobs. This could lead to higher prices due to increased buyer competition, and wages are likely to rise in accordance with inflation expectations.
During the fall, we experienced new buyers entering, preparing, and anticipating a purchase this year. A softer market with less competition and more inventory is also an opportunity to be grasped.
Therefore, if you are planning on buying a home this year, well, perhaps it is a good idea that you are being accompanied to not only identify the right place for you but also to navigate this new price reality and environment, and make sure to pay your home for what it is worth in today's market (not in 2022).
You can start by browsing the homes currently available on the market and connect with Sandrine for an informative call.


Top 3 Reasons to Buy a home in 2023:
Building wealth. Real estate is an asset. It offers cash-flow, tax breaks, equity building, competitive risk-adjusted returns, and a hedge against inflation. Rentals have increased 8.3% year over year in the past year.
Home prices hitting the breaks are welcome news for house hunters - and prices may even adjust down for some properties to reflect pre-2022 values.
Existing homes are selling at a slower pace allowing a more balanced market and a more rational decision. And sellers' concessions are back on the table.


Top 3 Reasons to Sell your home in 2023:
Housing inventory is expected to remain tight in our local market. 80 listings are available in Cambridge at the time of this blog, similar in Somerville when the annual volume of sales in these towns nears 700-800 units a year.
House inventory may rise throughout 2023 though.
If you have owned for longer than 3 years, you most likely have gained equity and built wealth since the market has appreciated consistently every year


"While 2022 may be remembered as a year of housing volatility, 2023 likely will become a year of long-lost normalcy returning to the market", economists predicted Tuesday during the National Association of REALTORS®' annual Real Estate Forecast Summit
Sandrine Deschaux + co brokered over $48M of real estate in 2022 and was named Boston Top Producers. She also ranked Top #8 Agent in closed sales in Cambridge Mass (sales volume, MLS, 2022). Consult Sandrine anytime you have a real estate need at 857 204 9872. She will be more than happy to walk you through this new reality, set expectations and help you.