Due to its proximity to Boston and two prestigious universities, Cambridgeport is an incredibly sought-after neighborhood. It's no surprise that homes for sale in Cambridgeport sell
less than three months
after being listed on the market. The median listing price of homes for sale in Cambridgeport has nearly doubled from December 2020 to December 2021. It's clear to see that the value of Cambridgeport real estate has increased and is currently in high demand.
If you want to take advantage of the high sale prices of homes for sale in Cambridgeport, there are steps you can take to increase your home's value. When it comes time to sell, you can list at a higher price. Homes in the Cambridgeport real estate market are currently selling above listing prices, so you have the potential to make a significant profit. In addition,
67% of Cambridgeport residents
are renters, and you can charge higher rent for properties with higher values.
Here are some methods you can follow to increase the value of your home.
1. Boost curb appeal
The front of a home is what makes the first impression, and selling your home for the highest possible price calls for great curb appeal. Choosing timeless, elegant pieces for front doors, light fixtures and steps can make all the difference when it comes time to sell your home.
What your home looks like on the outside can actually affect your home's value. Michigan State University conducted a study that actually proved the value of curb appeal by reporting that homes with well-landscaped yards and lawns are considered
5-11% more valuable
than homes with outdoor spaces that didn't look as nice. If you own Cambridgeport real estate, this is great news, given the seemingly endless number of ways you can increase your home's curb appeal with landscaping. The easiest thing you can do to give homes for sale in Cambridgeport a curb appeal boost is to maintain a well-manicured lawn.
An average spend of just $270 on lawn care can increase your home value by up to $1,200, so it's worth making sure your lawn is tended to. A well-planned yard and landscaping design that features trees, floral elements, succulents, and stone decor can also increase home values for potential buyers of homes for sale in Cambridgeport. A study conducted by Virginia Tech found that home value can be increased by "design sophistication," so investing in the outdoor appearance of your property can pay off.
2. Neutralize colors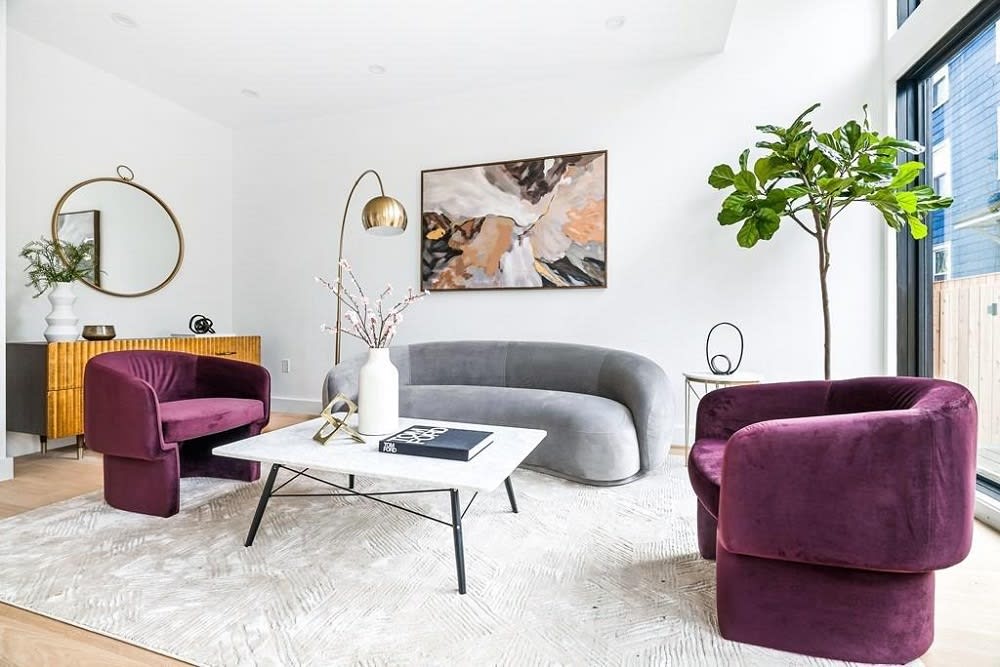 When potential buyers tour homes for sale in Cambridgeport, they should be able to picture themselves living there. When it comes to Cambridgeport real estate, color selection can make or break this step in a potential home buyer's process.
Choosing neutral colors for your home's walls and floors goes a long way in helping them imagine the home as theirs. You can never go wrong with neutral, not-quite-white shades for interior walls. The same goes for floors. Timeless wood or laminate flooring or tile in neutral colors look simple and chic.
You don't want to add any bold pops of color, like a bright blue statement wall, if you're trying to sell your home. This can detract from the look of your home and turn off potential buyers. The more surfaces you can make neutral-toned, the more well-designed the interior of your home will appear.
3. Declutter and depersonalize
Aside from incorporating neutral tones, another way to help potential buyers visualize themselves in homes for sale in Cambridgeport is to declutter and depersonalize your home. When it comes time to sell and show your home, you'll want to make sure it looks clean and organized and that personal elements are kept to a minimum. That giant family photo might look great in the living room to you, but potential buyers will want to imagine their own family photo hanging up. While you're showing your home, store family photos and finger paintings away to allow buyers to see the potential of your home for them.

You should also take care to organize your space. For example, you can leave a candle and a few books stacked neatly on the coffee table, but it shouldn't be overrun with old magazines or candy dishes. As with most properties, Cambridgeport real estate looks its best when it's decluttered and sells best when it's depersonalized.
4. Upgrade kitchens and bathrooms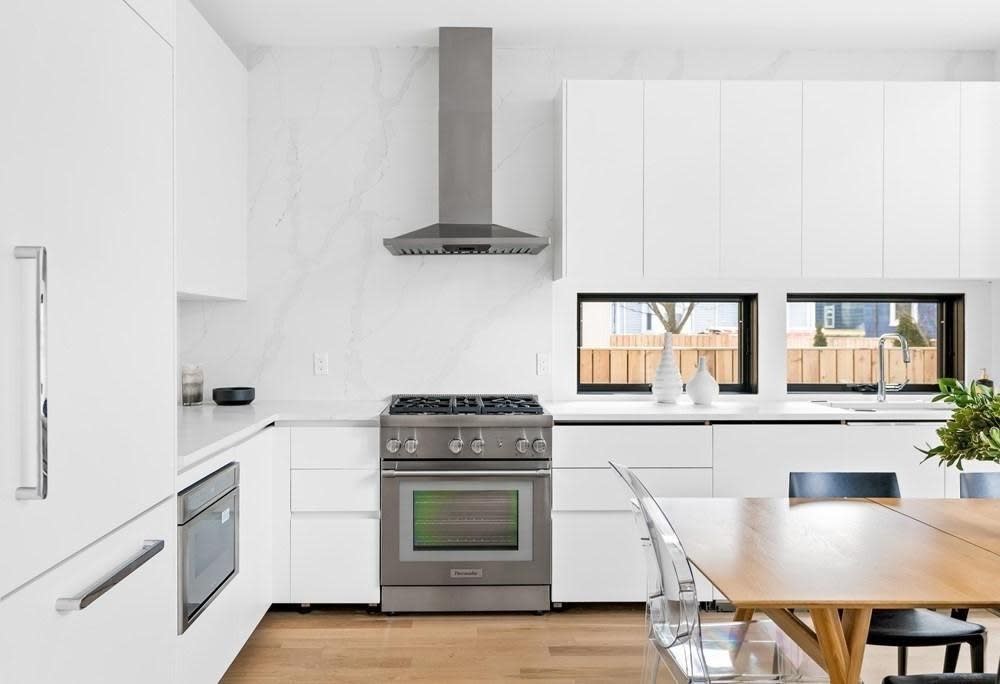 In high-end real estate markets, like the Cambridgeport real estate market, sellers can score up to a
triple-digit return rate
by remodeling their kitchens and bathrooms. Florida State University conducted a study that concluded that adding one bathroom to a home increases sale price by 8.7%. Interested buyers like to see upgraded, modern kitchens and bathrooms in homes for sale in Cambridgeport, and it's easy enough to make simple changes to give them this appearance.
It doesn't take a full remodel to perk up the interior design of your bathrooms and kitchen. Adding classic quartz countertops in your kitchen or bathroom can instantly improve the space. Switching up small details like light fixtures, cabinet hardware, and faucets can instantly improve your home's look. In the kitchen, improving interior design can be as simple as adding a backsplash or adding a fresh coat of paint to the cabinets. As long as these small updates are made tastefully in neutral colors, your home will have a beautiful new look and be ready to fetch a high price when it comes time to sell.
When it comes to interior design, there are a few key elements you can focus on to help your home sell for the highest possible price. A real estate agent who specializes in Cambridgeport real estate, like
Sandrine Deschaux
, can guide you further on increasing your home's value. If you're ready to sell, Sandrine can help you design your home to sell at the best possible price.