Rightfully lauded for the presence of both Harvard University, the Massachusetts Institute of Technology and a burgeoning tech startup sector, it is easy to forget that Cambridge is more than just a college town, but a prominent, highly livable enclave that is one of the state's—and New England's—best places to live. Helping boost that desirability is the community's impressive cache of restaurants, many of which feature seasonal and year-round outdoor dining.

From quaint sidewalk cafes to an alleyway bar and grill to fine dining on posh patios, exceptional al fresco dining beckons across Cambridge's lofty food and drink scene. But which of these outstanding establishments is calling you? To find out, let's explore seven of the best places for outdoor dining in Cambridge.
Rooftop views
Nestled in the heart of Central Square, The Blue Owl is a charming rooftop restaurant that captivates diners with its cozy ambiance and eclectic menu. Whether you're seeking a quick bite or a leisurely meal, The Blue Owl's diverse offerings cater to all palates. From hearty comfort food classics to innovative culinary creations, their dishes are a delightful blend of flavors and textures. With friendly staff, a warm atmosphere, and unparalleled views of the surrounding area, The Blue Owl promises an unforgettable dining experience that leaves you longing for more.
A true gem in Cambridge, and the second of only two rooftop bars in the area, Daedalus impresses with its diverse array of cuisine. As you step into this chic restaurant, you're greeted with a stylish blend of modern design and eclectic charm. Daedalus boasts a menu that features fresh seafood, succulent meats, and vibrant vegetarian options. Pair your meal with one of their craft cocktails or carefully curated wines, and you're in for a gastronomic journey.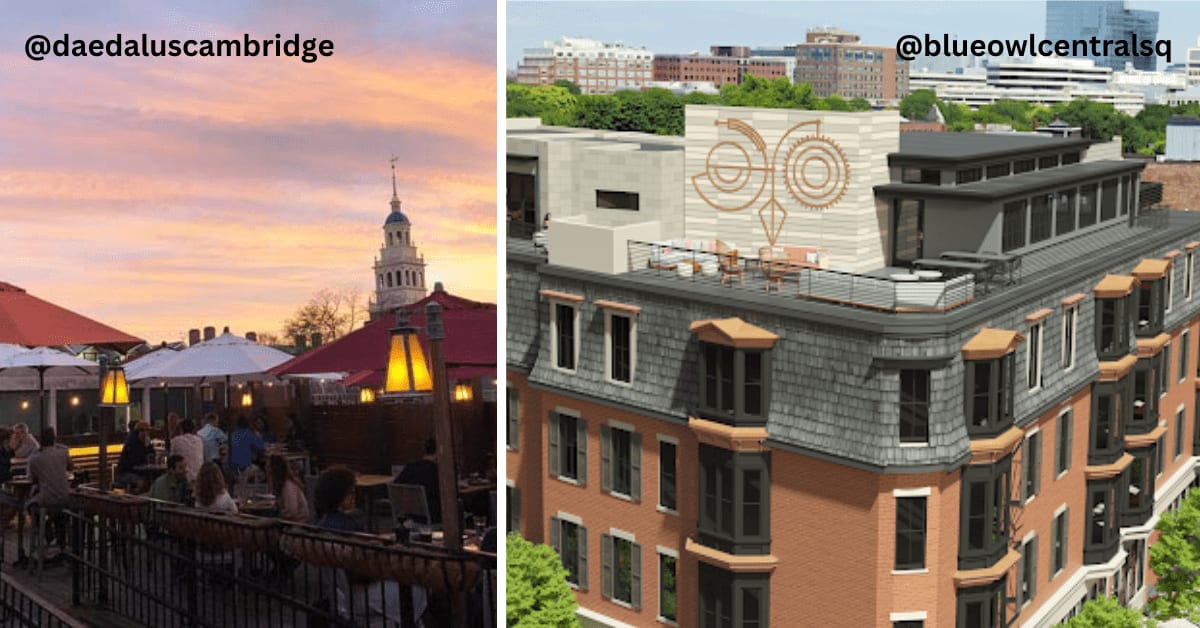 Globally-inspired cuisine
A culinary adventure awaits at The Little Donkey, where culinary boundaries are pushed and creativity knows no limits. This vibrant eatery, led by James Beard Award winners Ken Oringer & Jamie Bissonnette, showcases a fusion of global cuisines, producing dishes that tantalize taste buds with unexpected yet harmonious combinations. From small plates meant for sharing to exquisite desserts, each item on their menu is a masterpiece of flavor and presentation. The Little Donkey's lively atmosphere and dedication to culinary innovation make it a must-visit for food enthusiasts.
Inspired by the rich tapestry of Middle Eastern flavors, Moona brings a captivating taste of the region to its patrons. With its warm and inviting decor, the restaurant sets the stage for a memorable dining experience. Moona's menu celebrates the aromatic spices and fresh ingredients that define Middle Eastern cuisine, offering an array of delectable dishes, including Istanbul Grape Leaves, Chicken Tagine, and Hallawa Cheesecake. The restaurant's commitment to authenticity and its warm hospitality ensure that guests leave with contented hearts and satisfied palates.
Consistently lauded as a top establishment in Cambridge's lofty restaurant scene, Oleana features a sublime upscale dining experience, highlighted by its intimate patio. Similar to Harvest's bucolic outdoor dining, Oleana's al fresco offering is akin to a private walled garden tucked away on a posh country estate. Mature landscaping and floral accents thrive beneath a leafy canopy of trees. Popular in winter and summer—and pretty much any time in between—every table is a prime setting to enjoy Oleana's outstanding Turkish-fusion dishes.
Exceptional cocktails + locally sourced ingredients
A culinary delight in the heart of the city, Catalyst is a restaurant that excels in delivering refined American cuisine with a contemporary twist. The sleek and sophisticated ambiance complements the dishes created with precision and passion. From farm-to-table delights to innovative culinary experiments, Catalyst's menu delights food connoisseurs seeking an upscale dining experience. The attention to detail and the use of high-quality, locally sourced ingredients elevate every dish, leaving guests with a profound appreciation for culinary artistry.
Located in a stunning, revitalized brownstone at 907 Main Central Square, The Dial is part of the Sonder 907 Main Hotel. An eclectic space that is equal parts trendy, funky, and exceedingly warm and inviting—an aesthetic that runs throughout the Central Square neighborhood—you're always assured a fantastic time. On your way to The Dial's roomy, fully enclosed exterior patio—one of the area's largest and most relaxed dining areas—be sure to stop and appreciate the gawk-worthy interior stylings of the restaurant's interiors. There's a plethora of pink accents, velvety blue and green textures, and a bold technicolor fresco whose vibrance and beauty are exceeded only by the even more dramatic mural on the patio.
Ready to discover even more?
Are you interested in learning more about Cambridge, its eclectic outdoor dining scene, high-end boutique shopping and the vast offerings of Cambridge real estate? If the time is right for you to buy (or sell) a home,
contact Sandrine Deschaux today
to start your property journey. Allow her experience and unparalleled passion to help you navigate the extraordinary Cambridge real estate market as you uncover your next luxury home.