The Sandrine Deschaux + Co group is excited to support and promote the work of talented local interior designers in the Cambridge and Boston community. Designers improve your quality of life by maximizing the use of your space and subtly influence how you feel in your home. When a space is well-designed, it doesn't just look good. It is also a reflection of your story.
In this 2nd issue, we are pleased to spotlight 3 incredible women with personalities and a wealth of ideas for your home.

JUSTINE STERLING
JUSTINE STERLING DESIGN LLC
www.justinesterling.com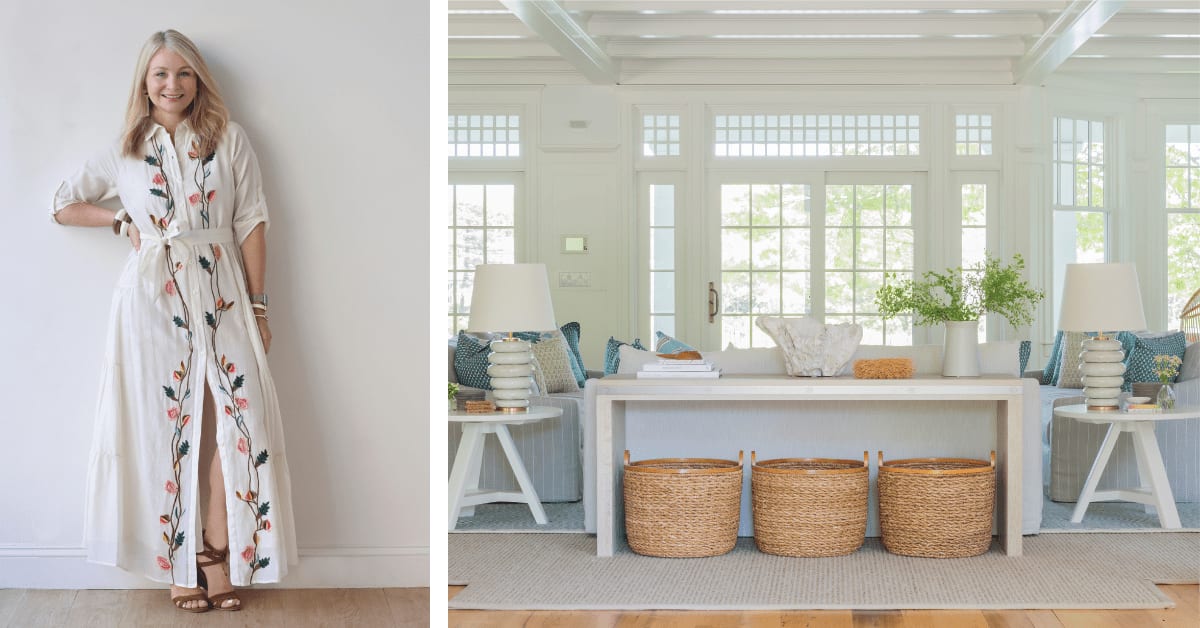 Located just north of Boston, Justine Sterling is an award-winning full-service Interior Designer who has built a portfolio of residential construction and furnishings projects since 2008, varying from urban condominiums to renovation and new construction home endeavors. Justine Sterling believes that the key to a well-designed (and loved) home starts with you taking you on a journey through self-discovery. Justine Sterling Design's aesthetic is clean, layered, approachable, modern yet cozy, and filled with texture. Whether you're working with Justine on a full home furnishings and renovation project or a new construction home or meeting with her one-on-one for invaluable design expertise, her Discovering Home process allows her to intimately understand the design elements that will bring surprise and delight to your home. Justine Sterling Design projects have been featured in many publications such as New England Home magazine, North Shore Home, Modern Luxury Interiors Boston, The Boston Globe, and Boston Home magazine.
What inspired you to become an interior designer, and what sets your approach apart from others in the industry?
My journey in Interior Design began over 30 years ago in Cape Town, South Africa. I found a home in interiors due to my love of art, organization, and the inherent nature of finding structure in chaos.
What sets us apart is our ability to take on projects where we understand the Interior Architecture of a space as much as the finishes, furnishings, art, and accessories that will complete an individual room or space. We also have a step-by-step system for the procurement of goods and project management to ensure that the least number of surprises arise.


What do you consider to be the most important aspect of creating a successful interior design project?
Our mission statement is "To thoughtfully integrate your lifestyle and identity into creative and functional spaces in your home," and achieving that and having our clients trust is my constant goal.

Can you share a project that you have completed that you are particularly proud of, and why?
When I look through the portfolio of work that we have steadily built up over the years, I love creating balance and harmony in the spaces that our clients will live in, and balancing functionality, creativity and our client's investment.
That is accomplished with understanding our clients' needs, then space planning, 3-D design, and product sourcing. That said, it is a very in depth and multi-faceted process. This project for our client's multigenerational family still brings me delight, especially this view upon arrival into the room. It has a deliberate focal point that draws you into the space and sets the tone for the 1000sf layered design.
Follow her journey @justinesterlingdesign
AMY LYNN ALLARD
AMY LYNN INTERIORS LLC
www.amylynn-interiors.com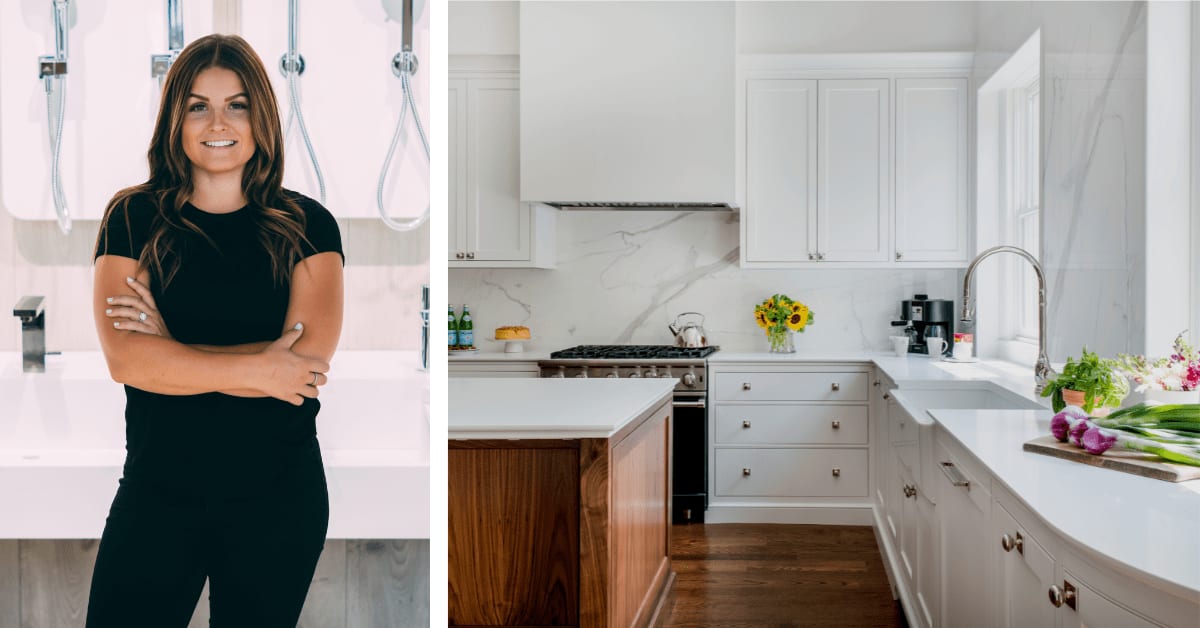 Amy Lynn Interiors, opened in 2018, brings to life not only an incredible design but one that is thoughtfully and technically planned out. They thrive for minimal afterthoughts. She proposes functional designs for busy lifestyles. "We don't have a "style", we have a system."
What is a design element I cannot and refuse to live without?!
NATURAL STONE!! When you travel anywhere you see it all. From white marble on the pathways outside in Greece to marble countertops in every home in Europe. Nothing compares to natural stone. Stone is a beautiful material and lasts forever and it is one of a kind. No one else in the entire world will have what you have. Things to note, not all stones are equal so make sure when you're investing in it you know it's going to suit your needs. We always recommend finding one that already has some "stains" in it as it will age effortlessly with your way of living. An example would be to get a Carrara marble for your vanity top with a few black markings in hopes that the one chance you do drop your mascara and it causes a stain for a few weeks it'll blend in with the beauty of the natural stone.
How would I describe our work as an interior designer?
It is our job to take your style and blend it with how you live and pair it with things that will enhance and endure it all. For example, we had a client that worked wild hours and her only time with her husband was getting ready for bed and waking up. Upon learning that we decided that it's critical to make their bathroom one of a kind. We made every area of the bathroom suited for 2 people. From the shower to the tub and the toilet. The best part about being a designer is getting to unfold our clients' style. Due to that you'll notice our portfolio is all over the place style wise and to us that means we've done our job as a designer. There are no two humans alike and our houses should reflect that.
How do we help our clients identify their style?
When we have a client that comes to us without a vision on what they're wanting we begin with the basics, how they live. We have them tell us what their day to day looks like during the week and weekend. We go over things from when they first wake up to go to bed. Once we uncover how they live, particular materials and selections become clear and this ultimately becomes the building blocks for building their style. We like to call this functional style.
Follow her journey @amylynn_interiors
CECILIA CASAGRANDE
CASAGRANDE STUDIO
www.casagrandestudio.com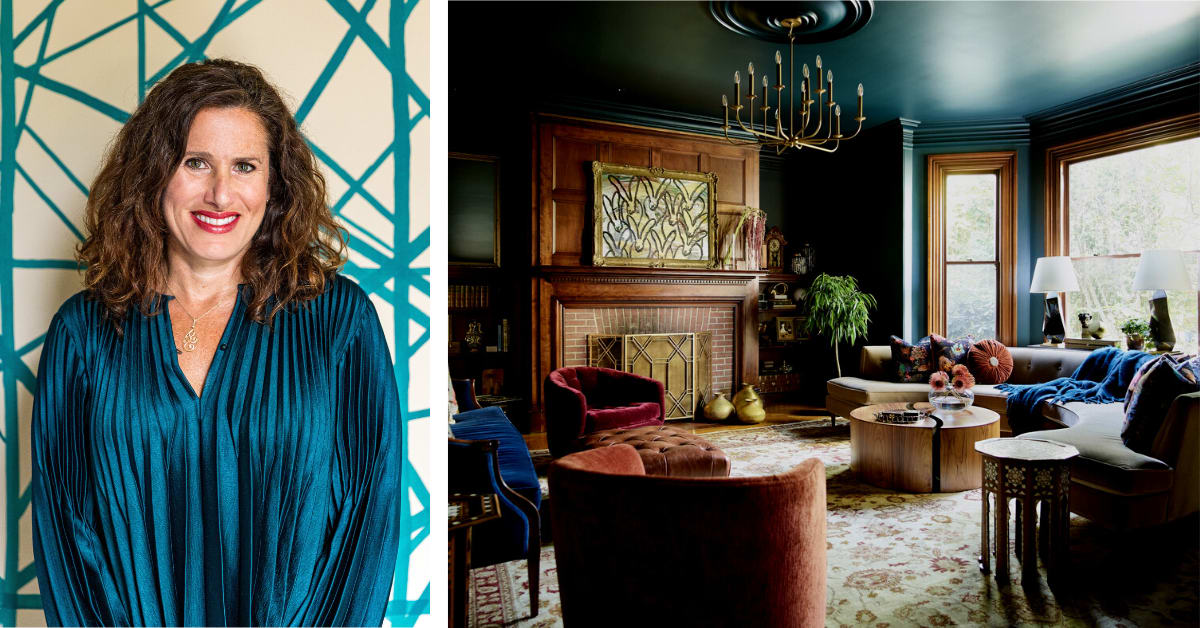 Casagrande Studio is a full-service Boston-area interior design firm creating spaces that are beautiful, comfortable, and inspiring. We specialize in historic home design, decorating and renovations, and offer our clients general contracting and design-build services for seamless project execution. Founded in 2015 by Cecilia Casagrande, the firm has grown into a collective of deeply experienced experts in style, decor, architecture, carpentry, fine painting, construction management, and artisans.
What inspired you to become an interior designer, and what sets your approach apart from others in the industry?
I have a background in social work, the hotel industry and a family of antique collectors so it was the right combination to pique my interest in interior design. What sets me apart tis my British roots and greatest influence of British design as well as my degree in social work- I love color and pattern and sure know how to listen to my clients.
What's your favorite architectural style?
I absolutely love the architecture of New England, old homes are my jam and I have an extra soft spot for Victorians. I love the high ceilings, original moulding and bonus if there is are original ceiling medallions or marble fireplace.
How do you help your clients identify and express their style?
I love helping my clients find their style and what makes their heart go pitter pat. My favorite part of this job is seeing how different all of my clients are in what they love. I take my time to truly go deep to make sure every dollar they spend is something they are excited about and feel proud to live with. If my clients are starting from scratch or starting over I like showing off a large variety of fabrics and palettes to see what they gravitate to and work from there. Or if they have any treasures they have kept over the years and even more helpful place to start is a beloved piece of art.
Follow her journey @ceciliainteriors
The Sandrine Deschaux + Co Group is so exciting to sponsor and promote passionate women and strong women's businesses. If you are considering elevating your home, trust the power of creativity. If you are planning to purchase a new home, trust knowledge and experience, and contact Sandrine Deschaux. Thank you for reading.
Below is a link to our N.1 Issue with interior designers Barbara Elza Hirsch, Sashya Thind and Linda Zarifi.