Exploring the Rich Tapestry of Museums in Cambridge, Massachusetts, and Boston
Welcome to the vibrant city of Cambridge, Massachusetts, where history, education, and culture converge to create a captivating destination. In this extensive blog, we will embark on an exciting journey through the myriad of museums that dot the city's landscape. From ancient artifacts to modern marvels, we will delve into each museum's unique offerings, including customer reviews, admission details, architectural splendor, and much more. So, put on your explorer's hat and get ready to immerse yourself in the rich tapestry of Cambridge's museums!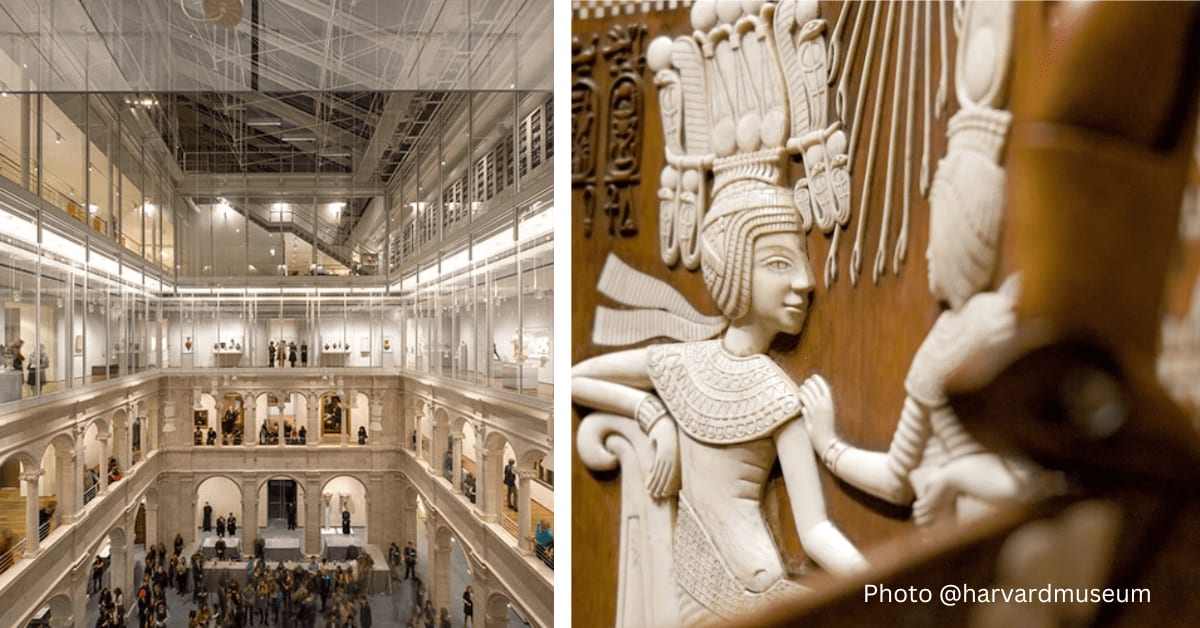 Located in the center of Cambridge, Massachusetts, the Harvard Art Museum is a fascinating trip through centuries of artistic genius and a tribute to the power of the human imagination. All the information you might possibly need to know about this cultural treasure may be found in this in-depth blog post. Grab your creative juices, because we're going on an exciting tour of the Harvard Art Museum!
In 1895, Charles F. Fogg founded the Fogg Museum and welcomed its first visitors, marking the beginning of what is now known as the Harvard Art Museum. The museum's holdings grew throughout time to include works from a wide range of artistic disciplines and cultural traditions. The museum's dedication to study and its goal of inspiring and educating visitors have helped establish it as a preeminent institution in the field of art.
The Fogg Museum, the Busch-Reisinger Museum, and the Arthur M. Sackler Museum were all merged into the Harvard Art Museum during its 2014 refurbishment. This fusion has produced a vibrant and spacious space that honors the variety of artistic expression throughout time and space.
Renowned architect Renzo Piano was responsible for the stunning design of the newly refurbished Harvard Art Museum. The remarkable architecture, which fuses ancient and contemporary design features, serves as a fitting backdrop for the artworks on display within. The beautiful glass roof over the museum's entrance lets in plenty of light, making the courtyard within feel bright and airy.
Over 250,000 works of art from countless nations and time periods are housed in the Harvard Art Museum. Exhibits range from ancient Egyptian antiquities to European classics, American paintings, and modern installations, demonstrating the breadth and depth of human creativity across time. Famous artists like Van Gogh, Monet, Picasso, and Rothko are on display for visitors to take in.
The museum is known for its stimulating exhibitions that explore niche topics, artists, or time periods, all with the goal of generating new ideas and stimulating conversation. Interactive components, multimedia displays, and educational activities are common in these shows, which attract people of all ages. The museum also offers presentations, workshops, and gallery tours that visitors may take advantage of to learn more.
Every person who enters the Harvard Art Museum should leave having learned something new and having had a good time. The helpfulness and friendliness of the museum's employees has been praised in several visitor evaluations. Visitors are impressed by the quality of the displays and the breadth of the collection. The museum's efforts to make its exhibits accessible to people with varying abilities are also to be commended.
The Harvard Art Museums are now completely open and free to the public. The museums intend for this to be a permanent change, as stated in a press release issued on June 23, 2023.
"It's our invitation for people to come," Director of the Harvard Art Museums Martha Tedeschi said. Tedeschi has been considering this new approach since she first arrived at Harvard in July 2016, and she discussed her goals with Harvard University President Lawrence Bacow at their initial meeting.
Visitors to Cambridge, Massachusetts will find the Harvard Art Museum to be an enthralling experience. The museum provides an engrossing and instructive experience because of its rich history, architectural magnificence, diversified collections, interesting shows, and dedication to teaching. The Harvard Art Museum invites visitors on a journey through the ever-evolving fabric of human creation, whether their interests lie in ancient masterpieces, contemporary installations, or cultural items from throughout the world.
Address: 32 Quincy Street, Cambridge MA 02138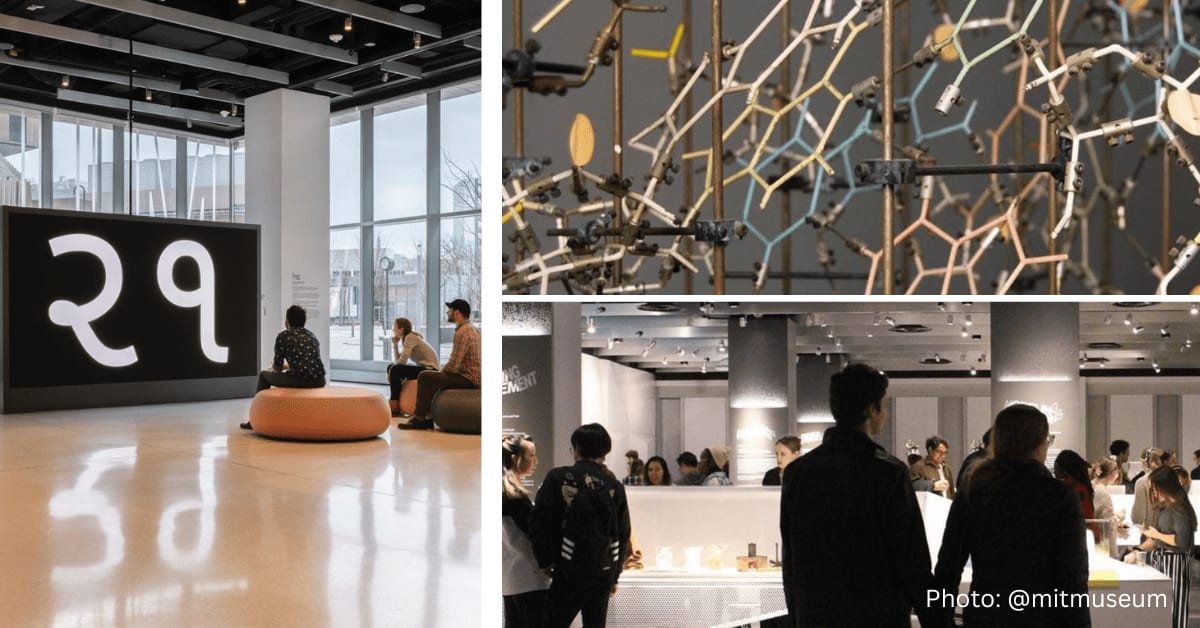 The MIT Museum…Unveiling the Wonders of Science and Innovation:
The Massachusetts Institute of Technology (MIT) Museum serves as a guiding light for scientific research and technological advancement and is located in the heart of the dynamic city of Cambridge. In this comprehensive blog, we will begin on an exciting trip to investigate the history of this unique institution, as well as its architecture, customer evaluations, admittance details, and other intriguing characteristics. Join us as we explore the fascinating world of the MIT Museum, a place where the worlds of art, science, and technology come together in amazing ways!
The Massachusetts Institute of Technology (MIT) realized the need of displaying its ground-breaking research and technical achievements to the general public in the early part of the 20th century, which is when the MIT Museum got its start. This was the beginning of MIT's legacy as a leader in innovation. The objective of the museum is to create a greater knowledge of the influence that science and technology have on society while also encouraging curiosity and innovation among its visitors.
The MIT Museum is located in a structure that is both architecturally distinct and reflective of the institution's dedication to forward-thinking design. It is situated in the center of Kendall Square, which is Cambridge's center for technological innovation. The building's outside is sleek and contemporary, and it mixes in well with the urban setting that is all around it. This invites visitors to start on a voyage of scientific discovery.
Exhibits and Interactive Displays Exploring the Intersections of Art, Science, and Technology The MIT Museum is home to a wide variety of exhibits and interactive displays that investigate the intersections of these three fields. Every display, no matter what medium it takes (robotic sculptures, interactive experiments, holography, digital art, etc.), has been thoughtfully arranged to captivate and motivate visitors of all ages. Get ready to be blown away by the things the human mind is capable of doing and the innovations that are possible.
The Mesmerizing Mechanical Sculptures of Arthur Ganson Are on Display at the World-Famous "Gestural Engineering" display One of the things that visitors rave about most about the MIT Museum is the world-famous "Gestural Engineering" display. Visitors are mesmerized by these elaborate and whimsical artworks due to the intricate motions and thought-provoking statements that they convey. Each sculpture is a demonstration of both the aesthetic value of engineering and the creative potential of the human mind.
The MIT Museum plays home to a wide range of special events, workshops, and lectures on a consistent basis. These programs give guests the opportunity to delve more deeply into the fields of science and technology. These events encourage conversation and urge attendees to actively participate with the ideas that are being presented. They range from hands-on workshops investigating upcoming technology to panel discussions with renowned scholars in the field.
The ability of the MIT Museum to enthrall and inform visitors of all walks of life is often cited as a strength of the institution in reviews written by customers. The guests frequently comment on how willing the staff is to share their ideas and provide answers to any queries they may have. The fact that the displays may be interacted with by visitors is something that many visitors like, as it makes education a more engaging and immersive experience. People who go to the museum also praise its dedication to accessibility, since it makes all kinds of adjustments for people who have varying requirements.
The MIT Museum does, on occasion, provide free entry days or discounted prices, despite the fact that it does, on average, charge an admission fee. If you visit the museum's website or get in touch with the institution directly, you will receive the most recent information on any forthcoming free days or other special promotions. Students, senior citizens, and members of linked institutions are all eligible for admission reductions to the museum.
The Museum of the Massachusetts Institute of Technology (MIT) is an engaging location that celebrates the wonderful world of science, technology, and innovation. It is located in Cambridge, Massachusetts. The museum provides guests of all ages with an experience that is one of a kind and one that will get them thinking by virtue of the institution's extensive history, architectural magnificence, fascinating displays, and dedication to education. At the MIT Museum, you will find the miracles of scientific discoveries as well as technical marvels, so get ready to be inspired, surprised, and enthralled as you explore these exhibits.
Address: 314 Main Street, Cambridge MA 02139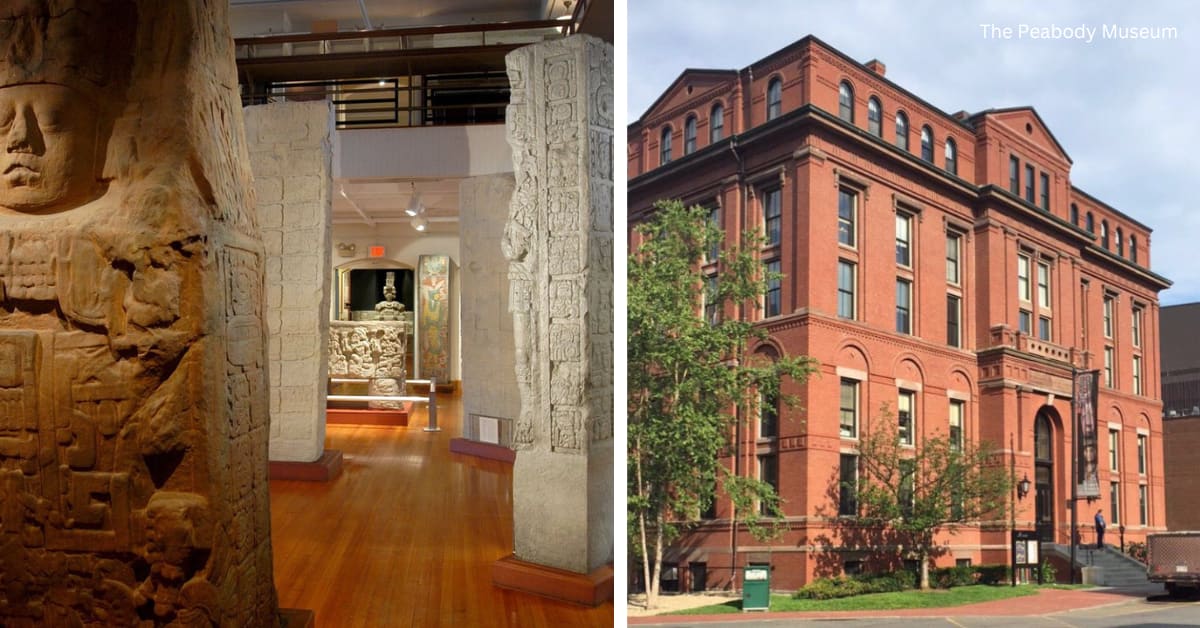 The Peabody Museum of Archaeology and Ethnology is pleased to welcome you to its enthralling and fascinating universe. We will begin on an interesting tour through the museum's history, architectural wonders, customer evaluations, admission details, and all of the other intriguing aspects that make it a cultural jewel here in this in-depth blog post. Come along with us as we investigate the intricacies of human culture and marvel at the relics housed in the Peabody Museum!
The museum is one of the oldest museums in the world that is dedicated to its respective fields of study. It was founded in 1866. Its illustrious past is inextricably linked to the investigation and documentation of human civilizations both in the past and in the present. The museum, which was established by the benefactor George Peabody, has a significant collection of artifacts, the purpose of which is to foster a knowledge and respect of the various cultures that exist around the world.
The architecture of the Peabody Museum is truly something to see and appreciate. The illustrious firm of Longfellow, Alden & Harlow was responsible for the design of the building, which emanates a timeless beauty that is congruent with the mission of the organization. The ancient civilizations that are shown within its walls serve as inspiration for the ornate features and architectural style that decorate the building's exterior, which is modeled after the architecture of Greek temples.
When you enter the Peabody Museum, you will find yourself transported back in time. An astonishing variety of items from different civilizations all over the world are housed in the museum's collection, which spans many continents and millennia. Discover the secrets of ancient Egypt, be amazed by the ingenious workmanship of Native American tribes, and dig into the myriad of civilizations that can be found in Africa, Asia, and the Americas. The displays provide a glimpse into the ways of life, the customs, and the beliefs of long-vanished civilizations, which helps to create a deeper knowledge of our common human history.
Visitors of every age will find something engaging to see and do at the Peabody Museum, which features an extensive collection of exhibitions and events. The museum strives to both engage and educate visitors through a variety of methods, including but not limited to immersive dioramas, interactive exhibits, and multimedia presentations. Visitors have the opportunity to take part in guided tours, attend lectures and seminars, and even contribute to research initiatives that are now underway. These experiences give a greater awareness of the items and cultures that the exhibits are meant to depict, and they bring the displays to life.
Reviews written by visitors to the Peabody Museum constantly recognize the institution's capacity to inspire and fascinate its visitors. Visitors are impressed with how thorough and well-organized the displays are, and they applaud the museum for its careful curation and the educational value it provides. Each visit is given a more personal feel thanks to the very kind and informed staff members who are eager to offer their ideas and are praised for their enthusiasm. A further aspect that garners a lot of praise is the museum's dedication to making the space accessible to as many people as possible by making it wheelchair-friendly and providing other amenities.
The Peabody Museum of Archaeology and Ethnology at Harvard University is now one of the university's museums that does not charge admission as part of a new policy. This museum provides a fascinating look at human civilizations throughout history. The museum encourages visitors to go on a voyage of discovery and comprehension by virtue of its illustrious history, breathtaking architecture, thought-provoking displays, and unwavering dedication to the advancement of education. At the Peabody Museum, you may delve into the mysteries of ancient cultures, observe the diversity of human expression, and develop a better understanding of the complex fabric of mankind.
Address: 11 Divinity Avenue, Cambridge MA 02138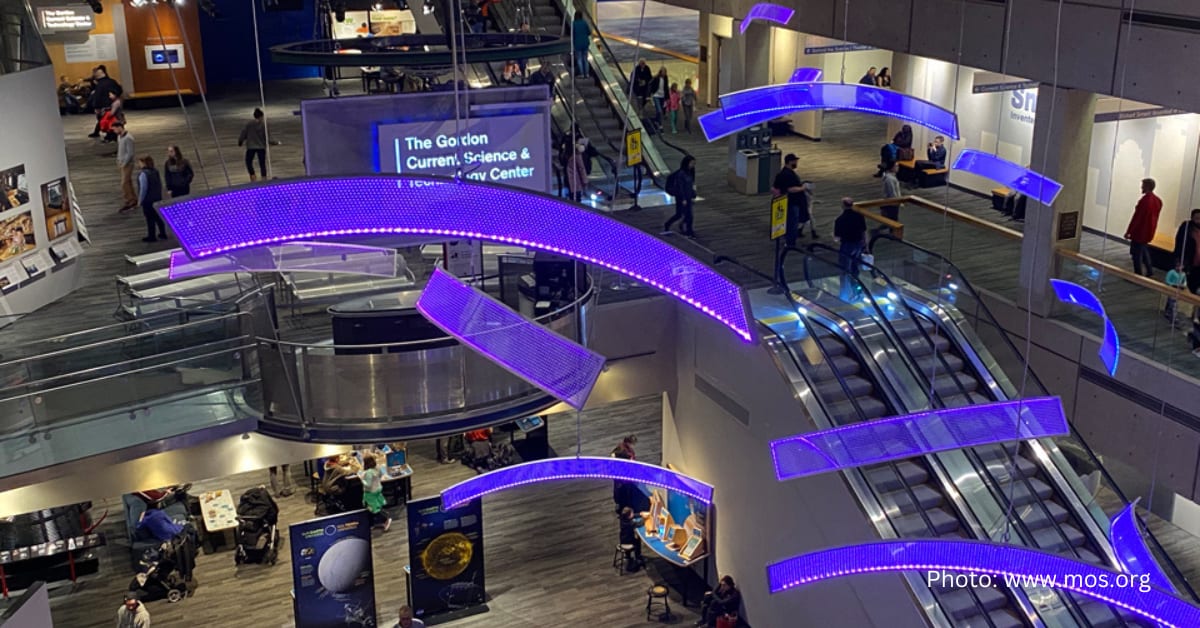 Welcome to the fascinating world of the Museum of Science in Cambridge, Massachusetts! In this comprehensive blog, we will embark on an exciting journey through the museum's history, architectural wonders, customer reviews, admission details, and all the captivating aspects that make it a beloved institution. Join us as we dive into the realm of science and exploration at the Museum of Science!
Since its founding in 1830, the Museum of Science has been a beacon of curiosity and discovery. With a mission to inspire a lifelong love of science and foster an understanding of the world around us, the museum has played a crucial role in educating and engaging visitors of all ages. Over the years, it has become a vital center for scientific learning and exploration.
Located on the Charles River in East Cambridge, the Museum of Science boasts a striking architectural design that seamlessly blends with its natural surroundings. The museum's iconic domed roof, visible from afar, is a hallmark of its identity. Inside, the building houses a multitude of exhibits, interactive displays, and theaters, creating a dynamic and immersive environment for visitors.
The Museum of Science offers an expansive range of exhibits that explore various scientific disciplines. From the wonders of astronomy and physics to the mysteries of biology and engineering, each exhibit invites visitors to engage with scientific concepts in a hands-on and interactive manner. Whether it's launching rockets, exploring the human body, or experimenting with electricity, there's something to captivate the curious mind of every visitor.
In addition to its permanent exhibits, the Museum of Science hosts a diverse array of special exhibitions and programs that cater to different interests and age groups. From captivating temporary exhibits that delve into specific scientific phenomena to engaging workshops and live demonstrations, there is always something new and exciting to explore. These experiences provide unique opportunities for learning, discovery, and inspiration.
Customer reviews of the Museum of Science consistently highlight the enjoyable and educational experiences it offers. Visitors praise the museum for its interactive exhibits, knowledgeable staff, and engaging presentations. The museum's dedication to creating a welcoming and inclusive environment for all visitors, including those with disabilities, is highly appreciated. The interactive and immersive nature of the exhibits is often commended, making learning a fun and memorable experience for visitors of all ages.
While the Museum of Science typically charges an admission fee, it occasionally offers free or discounted admission on select days or during specific times. It is advisable to check the museum's website or contact them directly for information on any upcoming free days or special promotions. Discounts may also be available for students, seniors, and members of affiliated institutions.
The Museum of Science in Cambridge, Massachusetts, is a captivating destination that celebrates the wonders of scientific exploration and discovery. With its rich history, awe-inspiring architecture, engaging exhibits, and commitment to education, the museum offers a unique and immersive experience for visitors of all ages. Prepare to be inspired, entertained, and amazed as you embark on a journey of scientific exploration at the Museum of Science.
Address: 1 Science Park, Boston, MA 02114
Looking to branch out of Cambridge?
Visit these museums catering to diverse interests and provide a window into different facets of human creativity, exploration, and knowledge. Join us as we explore four notable museums in the Boston area, delving into their unique histories, impressive architecture, customer reviews, and information about free days. Get ready to embark on a journey of discovery and inspiration as we uncover the treasures that await you in the city's cultural landscape.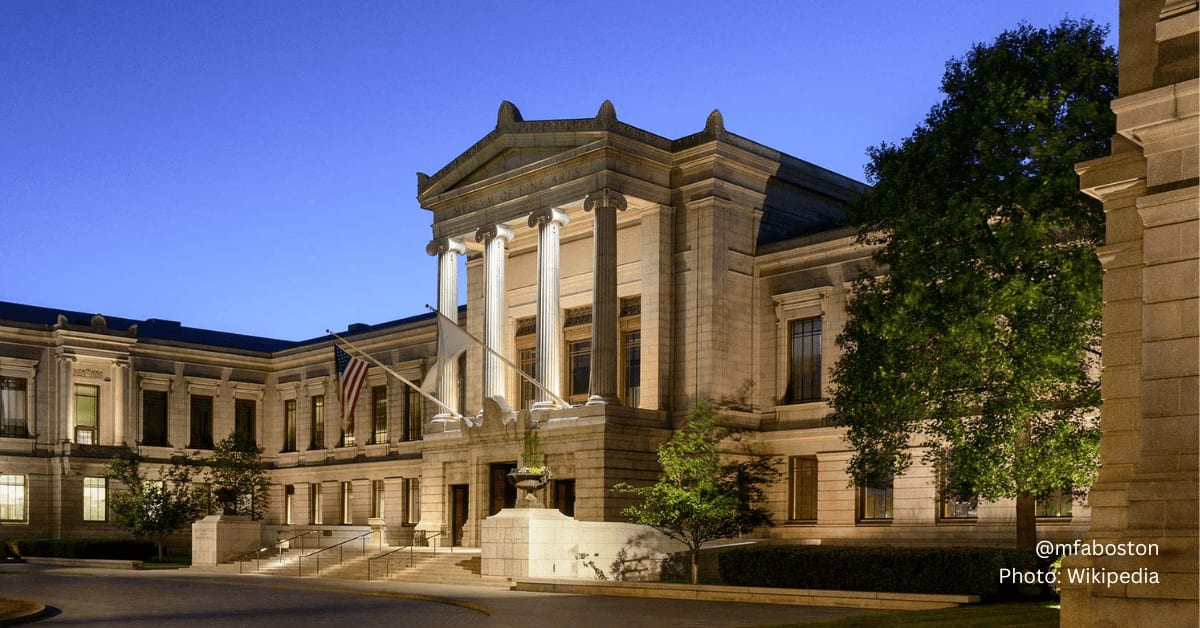 The Museum of Fine Arts (MFA) in Boston is a world-class museum with a large collection of art from all over the world. Let's learn more about its interesting past, free days, customer reviews, many different exhibits, and beautiful building.
Since it opened in 1870, the Museum of Fine Arts in Boston has grown to become one of the largest art museums in the United States. Its collection covers more than 5,000 years of art from many different countries and art groups. The museum has always added to its collection and buildings to make room for its growing number of works of art.
People always say good things about the Museum of Fine Arts' large collection, educated staff, and interesting exhibits. The museum's efforts to show art from different countries and time periods are praised by tourists, who point out the wide range and high quality of the pieces on display. Also, the MFA is often praised for its engaging exhibits and educational programs that try to connect and teach people of all ages.
The Museum of Fine Arts has a wide range of displays that cover many different kinds of art and art styles. The museum has a large collection of paintings, sculptures, textiles, decorative arts, and much more. These pieces range from old Egyptian artifacts to modern works. Special displays are often put together to show off certain themes, artists, or time periods. This gives people new and thought-provoking ways to look at art history.
The design of the MFA is a mix of styles from different times. The architect Guy Lowell created the original house, which has neoclassical features. In later additions, like the Art of the Americas Wing and the Linde Family Wing for Contemporary Art, current and up-to-date building styles were added. The physical setup of the museum makes it easy to move from one gallery or show to another.
The Museum of Fine Arts in Boston is a great example of how people have always been creative and made art. With its long past, wide range of exhibits, and impressive building, the MFA is a fascinating place for art lovers and people who just want to look around. From old treasures to cutting-edge modern art, the museum's collection gives people a chance to learn about the wide and varied world of art. Whether you're interested in classical works, avant-garde installations, or cultural items, a trip to the Museum of Fine Arts will be a memorable and enriching artistic journey.At 465 Huntington Avenue in Boston's Fenway-Kenmore neighborhood, you can find the MFA.
On Wednesdays after 4 p.m., you can get into the Museum of Fine Arts for free. For the most up-to-date information, you should check their website or call them directly.The design of the museum is a mix of styles, such as neoclassical and postmodern. The main building, which was built by Guy Lowell, has been added to and fixed up several times.
Address: 465 Huntington Avenue, Boston MA 02115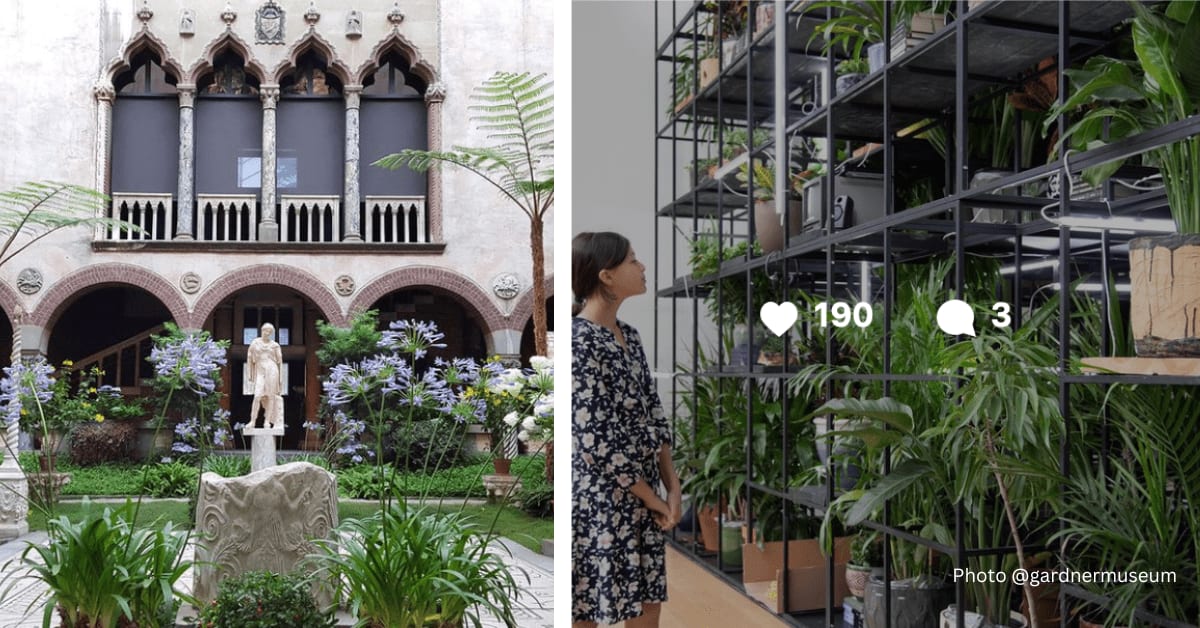 The Isabella Stewart Gardner Museum in Boston is a captivating institution that celebrates art, culture, and the vision of its founder, Isabella Stewart Gardner. Let's explore the museum's intriguing history, information about free days, customer reviews, remarkable exhibits, and unique architecture.
Established in 1903, the Isabella Stewart Gardner Museum is the result of Isabella Stewart Gardner's passion for art and her desire to create a space that would inspire and engage visitors. Gardner was a prominent art collector and patron, and she meticulously designed the museum to resemble a Venetian-style palace, creating an enchanting environment for art appreciation.
While the Isabella Stewart Gardner Museum typically charges an admission fee, it occasionally offers free admission on select days. One such day is Isabella Stewart Gardner's birthday, April 14th, when visitors named Isabella are granted free entry. It is recommended to check the museum's website or contact them directly for the most up-to-date information on free days. The museum is also free every first Thursday of each month from 3 pm - 9 pm.
Visitors consistently express their awe and admiration for the Isabella Stewart Gardner Museum. The museum's unique atmosphere, filled with lush gardens, intricate architectural details, and an intimate layout, captivates visitors. Customers often describe the museum as a hidden gem, praising its collection, the carefully curated displays, and the magical experience of wandering through the galleries. The friendly and knowledgeable staff further enhance the visitor experience, providing insights and enriching conversations about the artwork on display.
The Isabella Stewart Gardner Museum houses a remarkable collection of artwork from various cultures and time periods. Visitors can marvel at masterpieces by renowned artists such as Rembrandt, Vermeer, Botticelli, and Michelangelo. The collection includes paintings, sculptures, furniture, textiles, and decorative arts, all arranged as Isabella Stewart Gardner envisioned. The museum also hosts temporary exhibitions that offer fresh perspectives and engage with contemporary art and ideas.
The Isabella Stewart Gardner Museum's architecture is a major highlight of the experience. Designed to resemble a 15th-century Venetian palace, the museum features beautiful courtyards, arched windows, and ornate details. The central courtyard, known as the Courtyard Garden, is a serene oasis that showcases seasonal flora and provides a tranquil space for reflection. The architectural design creates an immersive environment, transporting visitors to another time and place.
The Isabella Stewart Gardner Museum is a cultural gem in Boston that invites visitors to step into the world of art, beauty, and imagination. With its rich history, engaging exhibits, and stunning architecture, the museum offers an enchanting experience for art enthusiasts and curious visitors alike. As you wander through the galleries and bask in the atmosphere of this Venetian-style palace, you will undoubtedly be captivated by the passion and vision of Isabella Stewart Gardner and her enduring contribution to the art world. The Isabella Stewart Gardner Museum is located in the Fenway-Kenmore neighborhood of Boston, at 25 Evans Way.
Address: 25 Evans Way, Boston MA 02115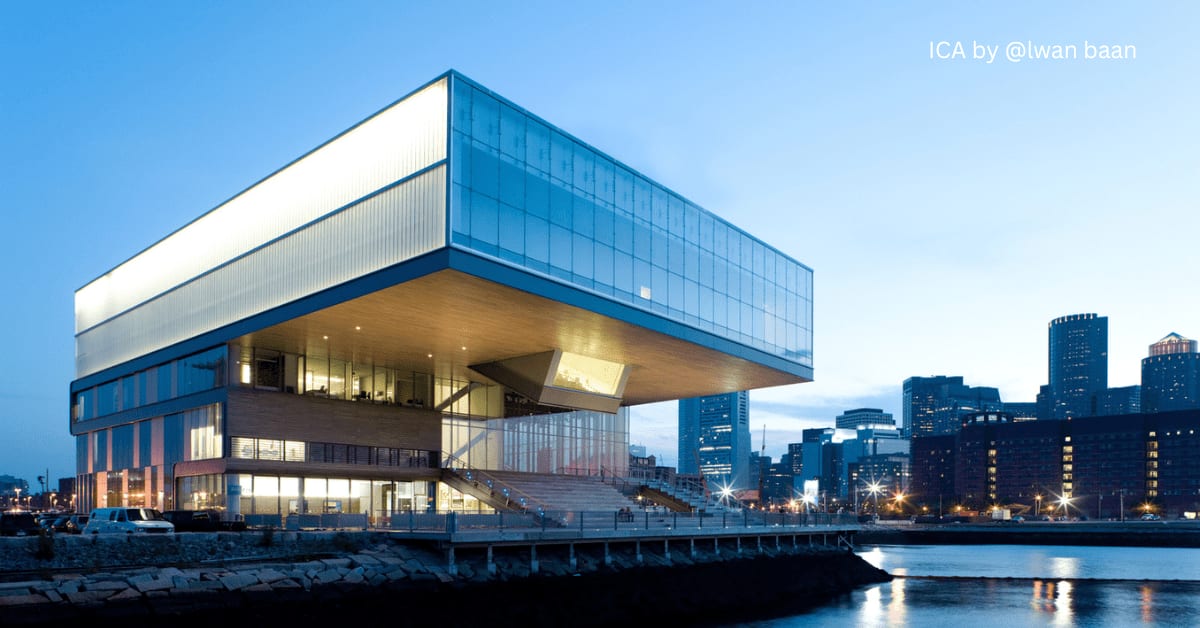 The ICA was founded in 1936 and has since evolved into a renowned institution for contemporary art. It has played a pivotal role in introducing Bostonians to groundbreaking works by both established and emerging artists. Over the years, the ICA has grown in prominence, becoming a cultural hub that fosters artistic exploration and dialogue.
One of the great aspects of the ICA is its commitment to accessibility. The museum offers free admission on Thursdays from 5 pm to 9 pm, allowing visitors to immerse themselves in contemporary art without any financial barrier. This initiative encourages a wide range of individuals to engage with the museum's thought-provoking exhibits.
Visitors to the ICA consistently laud its thought-provoking exhibitions and engaging programs. The museum has a reputation for pushing boundaries and challenging traditional notions of art, prompting visitors to reflect on social, cultural, and political issues. The ICA's commitment to showcasing diverse perspectives and supporting emerging artists is widely appreciated by patrons. The knowledgeable and friendly staff also receive praise for their ability to enhance the visitor experience.
The ICA boasts a diverse range of exhibits that showcase contemporary art in various mediums, including painting, sculpture, photography, video installations, performance art, and more. These exhibits often reflect current social and cultural issues, offering visitors a chance to explore and engage with the most pressing topics of our time. From solo exhibitions of renowned artists to group shows that amplify underrepresented voices, the ICA's exhibits provoke thoughtful conversations and inspire fresh perspectives.
The ICA's architectural design is an artwork in itself. Designed by acclaimed architects Diller Scofidio + Renfro, the building is a striking blend of sleek lines, glass panels, and innovative spaces. It offers breathtaking views of both the Boston Harbor and the city skyline. The ICA's iconic design is an architectural landmark, serving as a visual representation of the museum's commitment to pushing artistic boundaries and embracing innovation.
The Institute of Contemporary Art in Boston is a vibrant and forward-thinking institution that invites visitors to explore the ever-evolving world of contemporary art. From its thought-provoking exhibits to its striking architecture, the ICA offers an immersive and transformative experience. Whether you're an art enthusiast or simply curious about the power of creativity, the ICA is a must-visit destination that promises to broaden your artistic horizons and inspire new perspectives.
Address: 25 Harbor Shore Drive, Boston Seaport District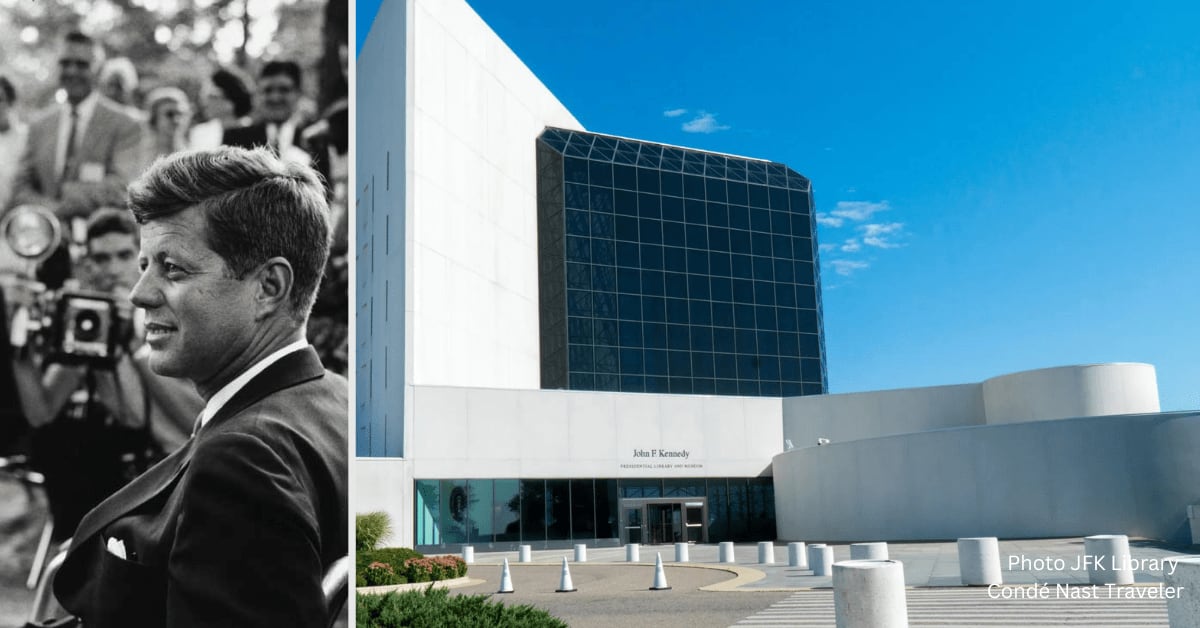 The John F. Kennedy Presidential Library and Museum in Boston is a well-known place that works to keep President John F. Kennedy's history alive. Let's learn more about its long past, free days, customer reviews, interesting exhibits, and interesting building.
In 1979, the John F. Kennedy Presidential Library and Museum opened as a tribute to the life and work of the 35th President of the United States, John F. Kennedy. The museum is a place where Kennedy's papers, personal items, and historical artifacts are kept. This gives tourists a full picture of his leadership and the time he stood for.
The John F. Kennedy Presidential Library and Museum usually charges a fee to get in, but on rare events, it lets people in for free. On free days, like Presidents' Day or JFK's birthday, people can look at the museum's displays and learn about the life and impact of President Kennedy without having to pay.
Visitors always like how the John F. Kennedy Presidential Library and Museum makes them feel like they are there and teaches them something. People often say that the shows and displays are interesting, make them think, and make them feel. Visitors like how dedicated the museum is to saving and showing the history and influence of President Kennedy. They also like how interesting and well-organized the exhibits are. The friendly and informed staff help visitors have a good time by giving them more information and solving their questions.
The displays at the John F. Kennedy Presidential Library and Museum tell a lot about President Kennedy's life, family, political career, and important events that happened during his time in office. Visitors can look at a wide range of displays, such as interactive displays, video shows, and historical items. The museum talks about things like the Space Race, the Civil Rights Movement, the Cuban Missile Crisis, and how the Kennedy family changed American culture. The goal of the displays is to shed light on President Kennedy's accomplishments, problems, and lasting impact.
The John F. Kennedy Presidential Library and Museum is a work of art that was made by the builder I.M. Pei. With its clean lines and futuristic style, the building's design shows how President Kennedy saw the world. The museum is on a beautiful stretch of water at Columbia Point and has amazing views of Boston Harbor. The building's unique design and the way it fits into the scenery around it make it a peaceful place to think.
The John F. Kennedy Presidential Library and Museum is a tribute to President John F. Kennedy's life, achievements, and lasting impact. The museum gives people a chance to learn more about one of the most important people in American history through its interesting displays, historic items, and architectural wonder. The John F. Kennedy Presidential Library and Museum is an interesting and educational place to go if you are interested in politics, history, or just want to learn about the effects of President Kennedy's time in office.

We know Cambridge. We know the market. The Sandrine Deschaux + Co Group is pleased to provide you with pertinent information which will allow you to enjoy living the city. If you are considering purchasing or selling a property in the area, please contact Cambridge realtor Sandrine Deschaux at 857 204 9872 or email [email protected]
Blog written in collaboration with Maria Perez from the Sandrine Deschaux + Co Group.