West Cambridge, or Neighborhood 10, is bordered by Huron Avenue, Concord Avenue, Fresh Pond Parkway, and Alewife Brook Parkway. The neighborhood is home to several schools, including the Peabody School, the Cambridge Montessori School, and the Graham and Parks School.
West Cambridge is a diverse community that includes a mix of residential and commercial properties. It has easy access to public transportation and is located near several parks and recreational areas, including Fresh Pond Reservation and Danehy Park.
The City of Cambridge has developed a neighborhood plan for Neighborhood 10 that includes strategies for improving transportation, preserving historic landmarks, and promoting economic development. The plan also aims to foster a strong sense of community by encouraging public participation in decision-making and promoting neighborhood events and activities.
Overall, it seems that Neighborhood 10 is a vibrant and diverse community within the larger West Cambridge area of Cambridge, Massachusetts.
Outdoor Life in West Cambridge
Danehy Park
Danehy Park is a public park located in Cambridge, Massachusetts. It covers over 50 acres and offers a variety of recreational opportunities for visitors of all ages. The park features multiple sports fields and courts, including baseball and softball fields, soccer fields, basketball courts, and tennis courts. There is also a large playground area for children, as well as a spray deck for water play in the summer months. In addition to sports and play areas, Danehy Park also offers plenty of open space for picnics, walking, and jogging. There are several paved paths that wind through the park, as well as a large grassy area that's perfect for relaxing or playing frisbee.
Danehy Park is also known for its stunning views of the Boston skyline. From certain vantage points within the park, visitors can see the city skyline in the distance, making for a picturesque backdrop to a day spent outdoors. Overall, Danehy Park is a popular destination for locals and visitors alike, offering a wide variety of recreational opportunities in a beautiful natural setting.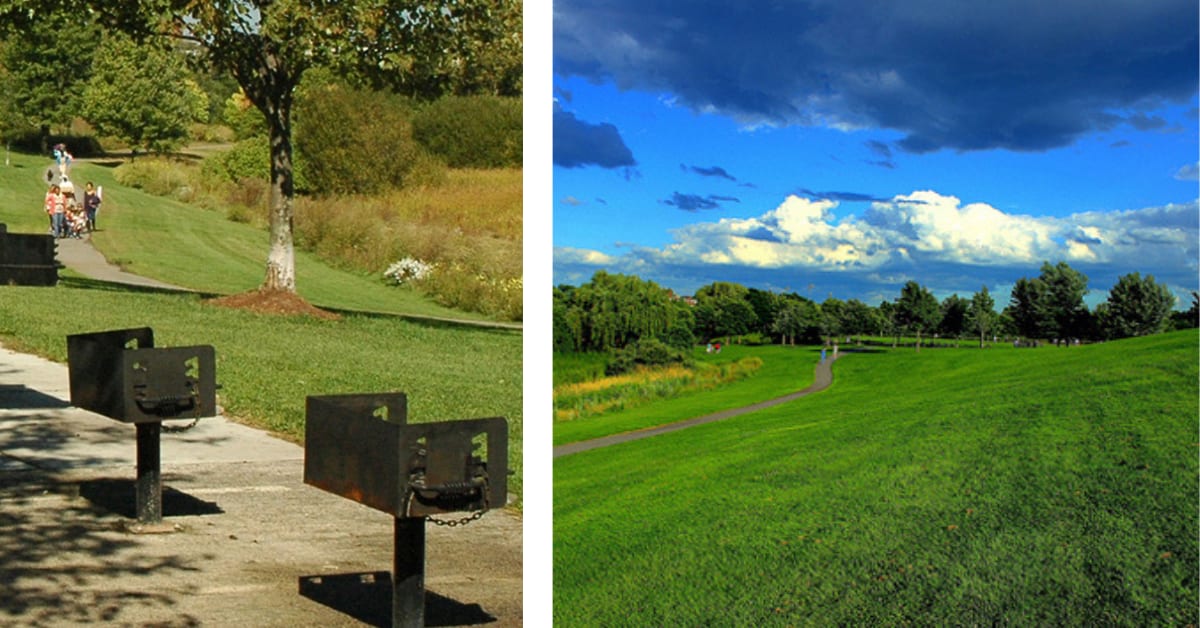 Fresh Pond
Fresh Pond is a beautiful natural feature located in Cambridge, Massachusetts. It is a 155-acre body of water surrounded by parkland, trails, and recreational areas. Fresh Pond is an important source of drinking water for the city of Cambridge, and it is also home to a wide variety of wildlife, including birds, fish, and turtles. The park surrounding the pond offers visitors a chance to explore this natural habitat and enjoy the beauty of the area. The park features several miles of walking trails, including a paved trail that circles the pond and provides stunning views of the water and the surrounding landscape. The park also includes picnic areas, playgrounds, and a golf course, making it a popular destination for families and outdoor enthusiasts.
In addition to its natural beauty, Fresh Pond has a rich history. The area was first settled by Europeans in the 17th century, and the pond was used for fishing, ice harvesting, and other activities. Over time, the area became a popular destination for recreation and relaxation, and in the 19th and 20th centuries, it was the site of several amusement parks and other attractions. Today, Fresh Pond remains a beloved destination for residents and visitors alike. Whether you're looking to take a peaceful stroll, enjoy a picnic with friends and family, or simply soak up the beauty of the natural world, Fresh Pond is a must-see destination in Cambridge, Massachusetts.
Along the Fresh Pond Trail and recreational park, you will find The Thomas P. O'Neill, Jr./Fresh Pond Golf Course an environmentally sensitive and challenging nine hole golf course – operating from early spring through early December – operated under the guidelines of the Fresh Pond Stewardship Plan. A variety of affordable daily fees and season memberships are offered ranging from junior to senior citizen memberships.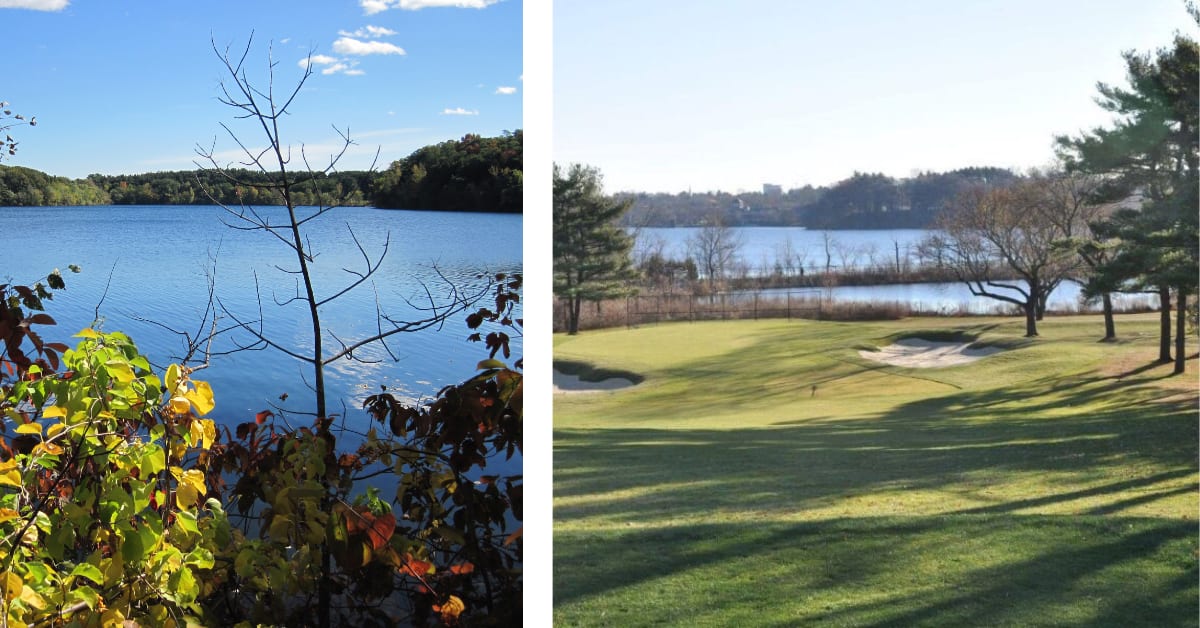 The Places to dine and shop.

Formaggio's Kitchen
Formaggio's Kitchen is a specialty food store located in Cambridge, Massachusetts. The store was founded in 1978 by Ihsan and Valerie Gurdal, who had a passion for artisanal cheeses and other high-quality foods. Over the years, Formaggio's Kitchen has become renowned for its extensive selection of cheese, charcuterie, and other specialty foods from around the world. The store's cheese selection includes more than 200 varieties, ranging from classic cheddars and blues to rare and exotic cheeses from small-scale producers.
In addition to cheese, Formaggio's Kitchen also offers a wide range of other gourmet foods, including olive oils, vinegars, chocolates, and prepared foods like sandwiches, salads, and soups. The store also hosts regular events and tastings, where customers can learn more about the products and meet local producers and artisans. Formaggio's Kitchen has earned a reputation as a go-to destination for foodies and cheese lovers in the Boston area and beyond. Its commitment to high-quality, artisanal products and its knowledgeable staff makes it a unique and beloved institution in the local food scene.
New in town but with great history …. Iggy's Bakery
Iggy's Bread of the World is a popular bakery based in nearby Watertown, Massachusetts, known for its artisanal breads, pastries, and other baked goods. The bakery has recently opened a new location in Cambridge. Now customers can purchase Iggy's famous breads, pastries, and sandwiches, as well as a café area where customers can enjoy their treats on site. Iggy's Bread of the World is known for its commitment to using high-quality ingredients and traditional baking techniques. The bakery's breads are made with natural starters and slow fermentation methods, resulting in loaves with rich flavor and texture.
In addition to bread, Iggy's offers a wide range of pastries, including croissants, danishes, and muffins, as well as sandwiches made with their freshly baked bread. The new Cambridge location is sure to be a hit with locals and visitors alike, and is a welcome addition to the vibrant food scene in the area.
Casual eatery with a mediterranean flare: La Royal
La Royal specializes in Mediterranean and Middle Eastern cuisine. The restaurant located on Concord Avenue offers a variety of dishes including falafel, hummus, shawarma, and grilled meats. They also have a selection of vegetarian and vegan options. The restaurant prides itself on using fresh, high-quality ingredients to create their dishes. La Royal has a casual and relaxed atmosphere and is popular with both locals and visitors. The restaurant offers indoor and outdoor seating, as well as takeout, catering and delivery options. La Royal is a semifinalist for James Beard Best New Restaurant Award!
Hip and locally sourced American flavors at Tallula
Tallula offers a contemporary American menu with a focus on seasonal and locally sourced ingredients. The restaurant is situated in a cozy and intimate space, making it popular for date nights and special occasions, and the menu features a variety of dishes that showcase the best of New England's culinary offerings. This includes fresh seafood, seasonal produce, and locally raised meats. The menu changes regularly to reflect the changing seasons and availability of ingredients. Overall, Tallula is a popular destination for those looking for a delicious meal made with fresh, seasonal ingredients in a cozy and intimate atmosphere.
Shop with intent at West Cambridge


Find your home style at Abroad Modern
Abroad Modern features a carefully curated selection of modern and mid-century furniture pieces, as well as a variety of unique home decor items. One of the standout features of this shop is its focus on sustainability. The store offers a range of eco-friendly furniture options, such as pieces made from reclaimed wood or recycled materials. They also work with local artisans and craftspeople to source one-of-a-kind pieces that are both beautiful and sustainable.
In addition to furniture and home decor items, this local gem also offers design services for those looking to create a cohesive and stylish look in their home or office. The store's knowledgeable staff can provide guidance on furniture selection, space planning, and decor choices to help customers create a space that reflects their personal style. Overall, Abroad Modern is a unique and stylish store that offers a refreshing alternative to more traditional furniture and home decor retailers. Its commitment to sustainability and focus on modern design make it a popular destination for those looking to create a beautiful and environmentally friendly living space.
Unique gifts for everyone at Graymist Studio & Shop
This local store offers a unique selection of handmade gifts, jewelry, and home decor items.The shop is owned and operated by artist and designer Siobhan Steele, who has been creating her own line of handmade jewelry for over 20 years. Steele's work, as well as that of other local artists, is featured prominently in the shop.
Customers rave about the quality and beauty of the items for sale at Graymist Studio & Shop. Many reviewers describe the shop as a hidden gem, with a stunning array of unique and one-of-a-kind items. The store's friendly and knowledgeable staff is also praised for their exceptional customer services.
J. Miles, a local landmark
The store specializes in unique and handcrafted items, ranging from clothing to jewelry and accessories. The store has become a fixture in the local community. J. Miles sources its products from a variety of artists and designers, both local and from around the world. The result is a collection of one-of-a-kind items that you won't find anywhere else. J. Miles is known for its exceptional customer service and welcoming atmosphere. Whether you're shopping for a gift for a loved one or yourself, the store's knowledgeable staff is always on hand to help you find exactly what you're looking for.


Reside Inc., a destination for Mid Century furniture


RESIDE INC. is a boston destination for 20th century modern furnishings and decorative arts. They specialize in unique, out of production and collectible pieces from some of the greatest modernist designers from the arts and crafts movement to mid century modern and post-modernist.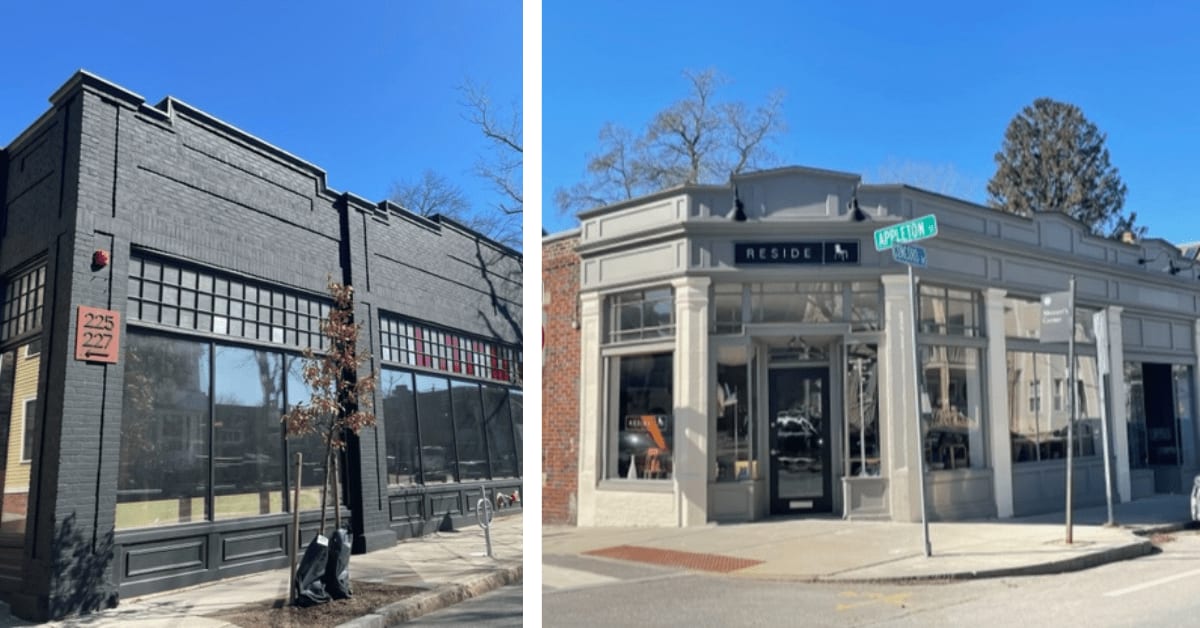 An art and history lover?
No problem, you can integrate them into your Cambridge experience, check out this gallery and historic sites on your next stroll!

Mobilia Gallery
Mobilia Gallery is an art gallery located in Cambridge, Massachusetts that specializes in contemporary craft and design. The gallery has been in operation since 1971 and features works by both established and emerging artists. Mobilia Gallery is highly regarded by art lovers in the Cambridge area and beyond. The gallery's exhibitions and events are praised for their innovation, quality, and relevance to current cultural trends. Many customers also appreciate the knowledgeable and friendly staff, who are always willing to provide information and answer questions.
Overall, Mobilia Gallery is highly recommended for art lovers who appreciate contemporary craft and design. The gallery's exhibitions and events are highly regarded, and the staff is known for their friendliness and expertise.
History Cambridge
"History Cambridge" is the public face of the Cambridge Historical Society, an organization dedicated to preserving and sharing the history of Cambridge, Massachusetts. The Society operates a museum and archive located in the Hooper-Lee-Nichols House on Brattle Street, which is open to the public for tours and events.
The museum features exhibits on a variety of topics related to Cambridge's history, including the city's role in the American Revolution, its industrial past, and its vibrant arts and cultural scene. The archive houses a wealth of materials related to Cambridge's history, including photographs, manuscripts, maps, and more.
The Old Cambridge Baptist Church - Located on Massachusetts Avenue near Huron Avenue, this church was built in 1870 and is an example of High Victorian Gothic architecture.
The W. A. Wilde Building - Located on Concord Avenue near Danehy Park, this building was originally constructed in 1893 as a shoe factory and is now listed on the National Register of Historic Places.
Longfellow House - The Longfellow House-Washington's Headquarters National Historic Site is located on Brattle Street in Cambridge and was the home of poet Henry Wadsworth Longfellow and his family from 1837 to 1882. The site is operated by the National Park Service and is open to the public for tours. In addition to the Longfellow family's personal belongings, the house contains a collection of artifacts related to the American Revolution, including George Washington's headquarters tent, which he used during the Siege of Boston in 1775-1776. The site also offers a variety of educational programs and events throughout the year, including guided tours, lectures, and workshops.
The Hooper-Lee-Nichols House - This historic home was built in 1685 and is one of the oldest surviving homes in Cambridge. It is now home to the Cambridge Historical Society.
The Brattle Street Church - This historic church was built in 1870 and is known for its distinctive Gothic Revival architecture.
The William Brattle House - This historic home was built in 1727 and served as the headquarters for the British army during the Revolutionary War. It is now home to the Cambridge Center for Adult Education.
The Tory Row Houses - These historic homes on Brattle Street are known as Tory Row because they were once home to Loyalists who supported the British during the Revolutionary War. It is given to seven colonial mansions along Brattle Street. It includes the William Brattle House (42 Brattle Street) and the Longfellow House–Washington's Headquarters National Historic Site at 105 Brattle Street.
The Mount Auburn Cemetery - While not technically on West Cambridge, this historic cemetery is located nearby and is the final resting place of many notable figures, including Henry Wadsworth Longfellow and Mary Baker Eddy.



The Homes in West Cambridge Mass - Cambridge Real Estate
West Cambridge is a very sought after location for young and old families who enjoy the proximity with the Green spaces, deeper and larger lots and streets.
47 single family homes were sold in 02138 in 2022. The most expensive house sold was 10 Channing Street off Brattle Street and for $12,500,000. The 2nd highest sale is 64 Highland Street, a modernist masterpiece created by Cambridge architect Frederick Bruck, a student of Walter Gropius. It sold for $10,500,000.


West Cambridge has the largest concentration of highest priced properties


The average sale price for single family in 02138 is $3,139,000 for an average price/sf of $1,021/sf


The average sale price for condominiums in 02138 was $1,104,000 in 2022 for a price/sf at $927/sf. 158 condos were sold in the area that year 2022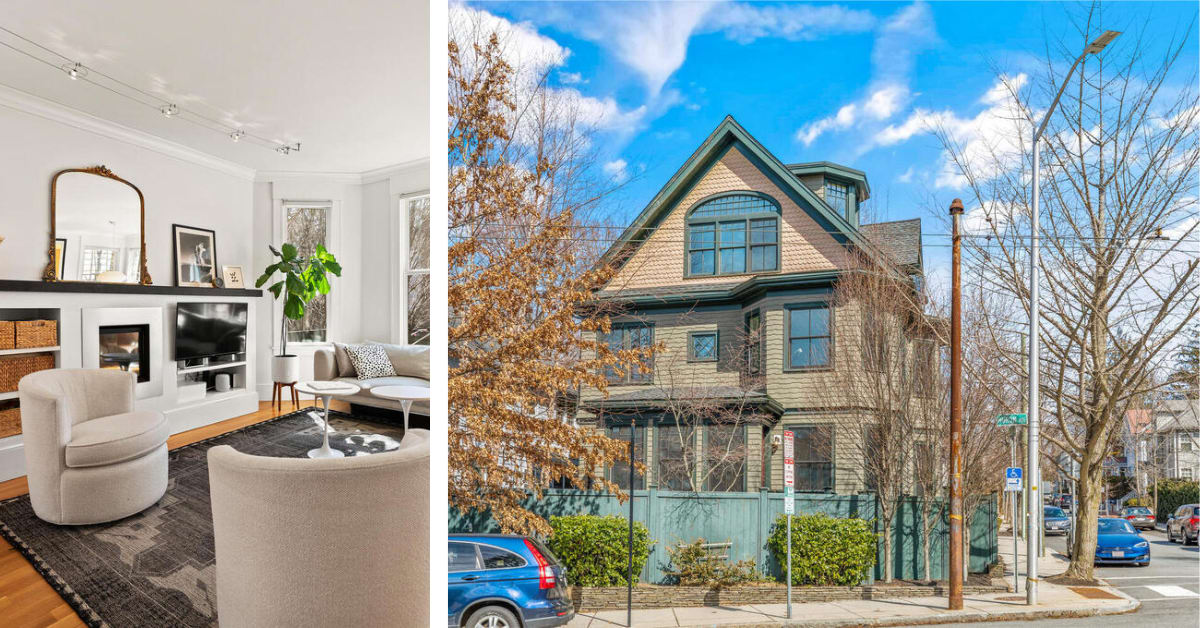 I
f you are considering West Cambridge as a neighborhood, local real estate expert Sandrine Deschaux will be happy to guide you through. Connect with her now to find your home for sale in Cambridge MA.