We definitely live in a hub of creativity, culture, and innovation, and its interior design scene is no exception. With its mix of historic architecture and modern design elements, Cambridge, Boston and beyond are the perfect places to find top-notch interior designers who can bring a unique and creative touch to your home.
The Sandrine Deschaux + Co group is very excited to launch a monthly blog series showcasing the incredible work of women and men in interior design in the Boston area.
In this 1st issue, we are pleased to spotlight 3 incredible women of characters and talents.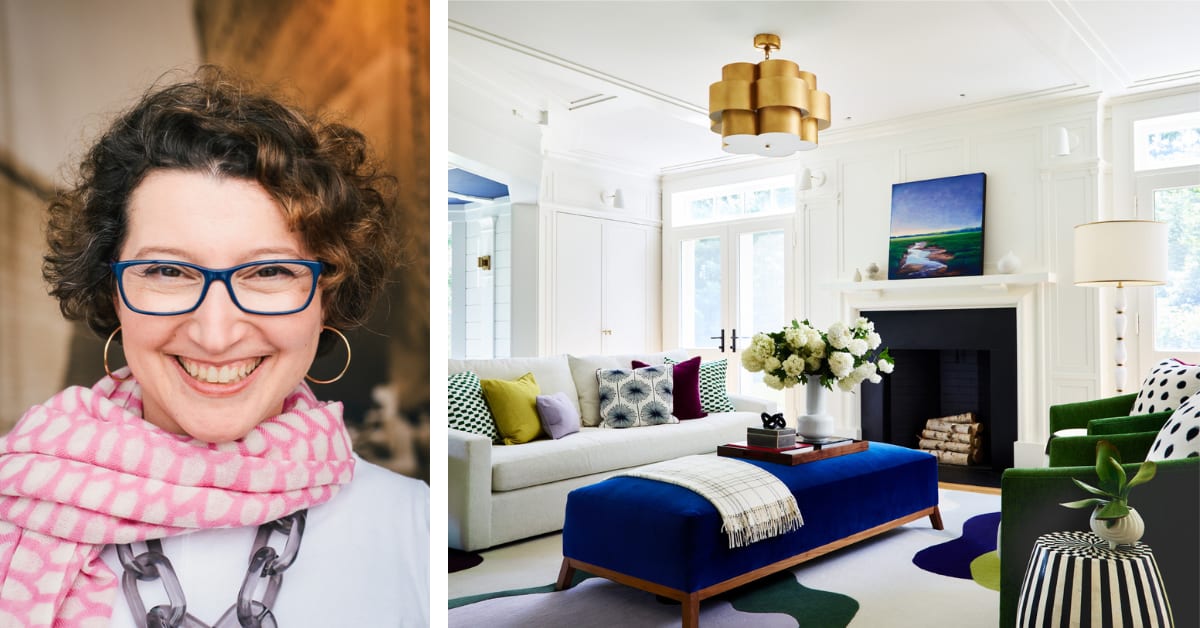 Elza B. Designs is a residential interior design firm founded by Barbara Elza Hirsch in 2007. They bring together the perfect mix of function, style and beauty to your space, making your design vision come to life. Inspired by nature, color, and art, we thoughtfully blend your vision with our sense of style, whimsy, and culture to create a space that brings you joy. They create soulful spaces: who says luxury design needs to feel cold and bland?


How do you approach your work as an interior designer?
My approach as an interior designer is warm and collaborative. I am a talented colorist and I view each new project as a unique and exciting puzzle to solve. The design process works best when there is clear structure: it requires a logical plan of action, excellent project management and communication skills, an eye for detail and the ability to visualize the big picture. Often, we work daily with other specialists, such as a builder, architect or artisans, so it's important to be a team player and respectful of everyone's talents.
On the creative end, I am very inspired by textures, art and nature and I like to bring whimsical elements in by juxtaposing unusual colors, materials, art and patterns. As a European, I am not afraid of blending old with new, and am happy to incorporate some prized possessions my clients have collected and mix them up with new elements. I guess you could say I'm eclectic in my approach, and can meet someone with modern sensibilities comfortably yet, also, feel very at home with transitional clients! Bottom line is I love delivering spaces with a soul: luxury design to me is best understated, warm and relaxed.
What was your most cherished project as a designer?
My favorite project right now is one that just got featured in the March/April 2023 New England Home magazine. First, everyone on board was so professional and kind. There was no ego involved and we all worked together to deliver a beautiful end result, not a small feat during a pandemic. I loved working with this family and thinking outside the box to bring in the right amount of function, adventure and zesty (but not overwhelming) color to the interiors and exteriors. It was important we respect the architecture and expansive outdoor vistas and harmonize our design with those. I had incredible fun exploring layouts, patterns, wallpapers, stone, fixtures, art, tile and creating furniture or rugs of my own design when applicable. As Oscar Wilde says: One should sympathize with the color, the beauty, the joy of life." My client and I shared this philosophy: we were very aware we were creating sparks of joy and beauty, that life is fleeting and fragile, yet should be embraced fully.
How do you help your clients identify and express their style?
I believe in empowering my clients from the get-go. Even if a client can't think in 3-D, they are drawn to certain spaces, materials or layouts, and this definitely comes out when we give prospective clients the opportunity to point them out. I've developed a questionnaire and specific homework clients can work on before our initial intake visit. During the intake visit, we go over the homework and we also show different types of materials (tile, wallpaper, color, fabric, wood, etc.) to get an immediate in-person reaction. We take detailed notes to identify the themes that are popping up, but also dislikes and personal needs and concerns (allergies, particular use of a space, disabilities, lifestyle...). These exercises help built trust in the designer and understanding of the clients. We work hard to establish common links and go on to use this information to create a mood board, color schemes and computer assisted drawings to confirm we are all on the same page.
Follow her journey @elzabdesign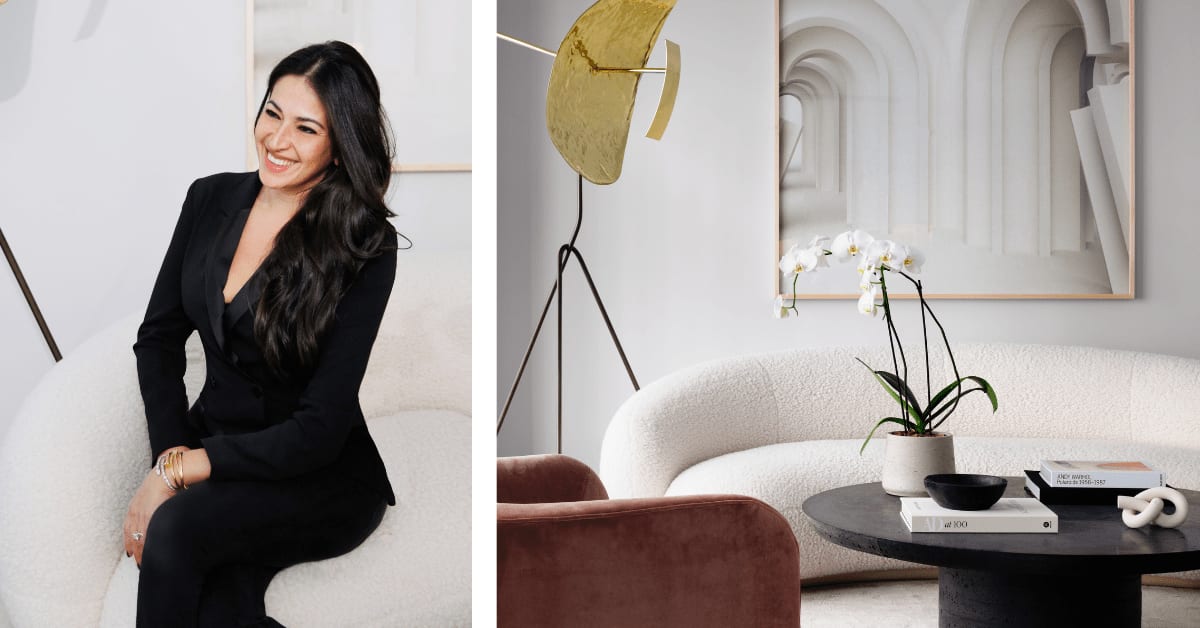 Zarifi Design is a full-service, boutique design firm specializing in residential and hospitality projects. Offering a comprehensive approach to design, each client is placed at the center of the experience. Through successful collaboration with global artisans, interiors reflect a timeless and sophisticated drama, positioning projects at the highest end of the luxury market. Founded by Linda Zarifi in 2011 with offices in Miami And Boston, Zarifi is sought after by an exclusive list of clienteles for her unique eye and dedication to the process.

What inspired you to become an interior designer, and what sets your approach apart from others in the industry?
My parents are from the middle east and back then I was given 3 career options, doctor, lawyer or engineer- architecture and design was the closest I could come to being creative without being disowned :)
What do you consider to be the most important aspect of creating a successful interior design project?
Understanding the needs of the project and the client is at the forefront of everything we do- the ability to listen and translate the project desires into a physical manifestation is the ultimate goal.
Can you share a project that you have completed that you are particularly proud of, and why?
The Parker residences in Boston just opened in the beginning of 2023 and it's been a long labor of love that we are so excited to see come to life. It's a different product from anything in Boston with a great amenity program and transformative spaces.
What is one design element you can't live without? How would you describe your work as an interior designer?
Bronze. I don't think I've been done a project without it. The world needs more glam. Our projects are contemporary in principle with an evocative edge and layers of materiality and design. We aim to create timeless spaces that are bespoke and conducive to modern day living.
What's your favorite architectural style?
We are most influenced by modernism and the principles associated with the movement. However, given the needs of a project we find ourselves diving into various genres, styles, personas, cultures etc.
Follow her journey @lindazarifidesign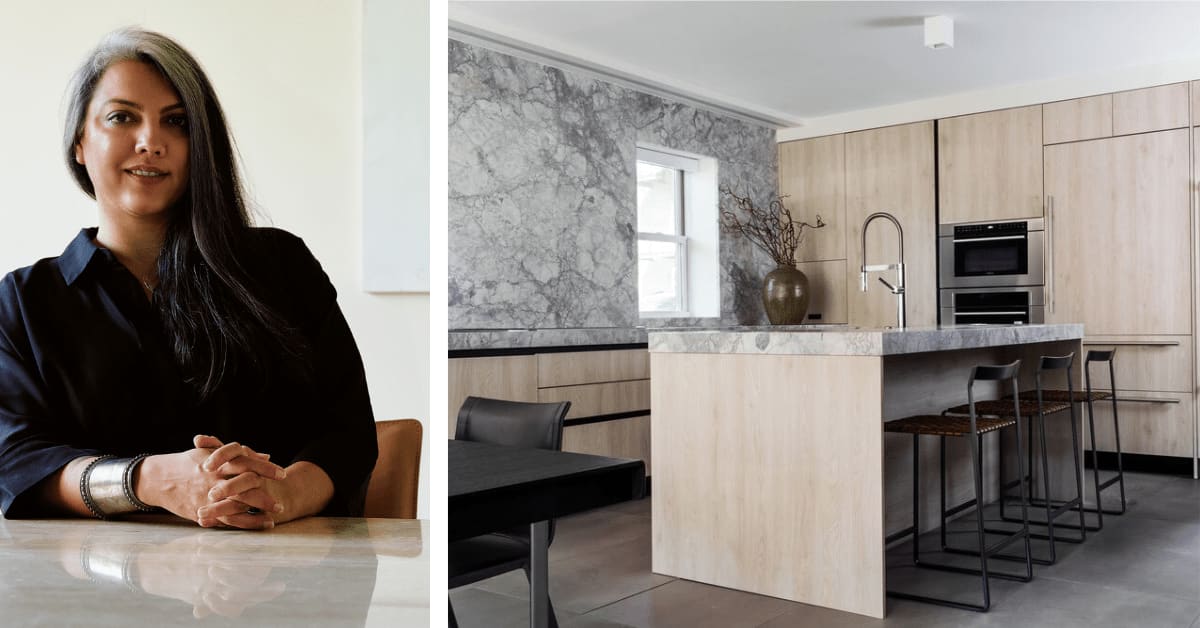 Sashya Thind (formerly named ID8 Design Studio) was founded in 2012 and formed to enable that life long journey of learning, forming connections with interesting people, and experimenting with ways to design spaces that will ultimately nurture the soul. Sashya's educational background and early training at architectural firms, has given her the grounding to provide solutions that often require structural changes to the layout, which can solve the underlying issues within a space. She defines her framework of life and experience as Warm Minimalism.


What inspired you to become an interior designer, and what sets your approach apart from others in the industry?
I grew up around my mother and grandmother, both architects, interior designers, artists and entrepreneurs. I have come to realize my background in Architecture (undergrad + several years work experience) gave me a strong foundation in interior design or interior architecture. When visualizing a space, I'm thinking more about making permanent and impactful (long term) changes like opening walls/windows or raising ceilings to bring in natural light vs how to apply wallpaper to hide something or create a 1 dimensional experience. ie an accent wall. I'm looking at it from a problem solving lens vs how to simply make it 'pretty' in the short term. We also provide drawings and renderings that are clear and precise vs pointing to pinterest images.


What do you consider to be the most important aspect of creating a successful interior design project?
There are several layers in the design process, but the most important is the client. A client who is going to let you do what you do..with input in key places.. but ultimately an open mind to truly see the possibilities that you are being hired to transform. People often get in their own way and you end up with a sub par outcome..a fraction of what it could have been.


Can you share a project that you have completed that you are particularly proud of, and why?
The Waterfront townhouse - Based on the Boston harbor, it was truly a pleasure to work on! Open minded clients, an inspiring location and the scope of work involved gutting and reassembling the entire space. Every detail was in our scope down to the furnishings that went into the newly renovated spaces. This approach truly allows us to bring our best design ideas to the forefront. Which in turn makes it a seamless experience for the clients living there. How the architectural volumes present themselves...to the living wall along the stair as you ascend or descent..down to the cowhide rug that sits in front of the fireplace in the primary suite creating an inviting moment. This makes me truly happy top come to work everyday!
Follow her journey @sashyathind
Subscribe to our blog and receive our newsletter directly to your inbox. Three other interior designers will be featured in our next edition. The Sandrine Deschaux + Co group with RE/MAX Destiny in Cambridge MA would like to thank all the featured designers for their incredible portfolio and generosity #interiorsladies #bostoninteriordesigners